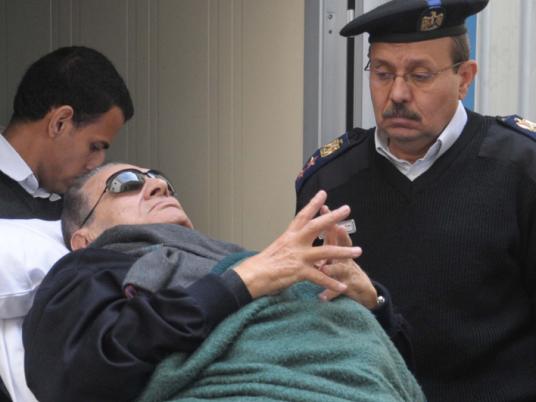 The head of Egypt's military judiciary, Adel al-Morsy, said Wednesday that ousted President Mubarak cannot be referred to a military court as he does not enjoy a military designation at present.
During a press conference, Morsy said Mubarak's desingation as chief commander of the armed forces was honorary.
Morsy said that those designated as part of the armed forces only include officers at all army formations, non-commissioned officers, prisoners of war, students of military academies and civilians working at the Defense Ministry while doing military service.
Mubarak, his former interior minister Habib al-Adly, and six former security officials are being tried for charges of murdering protesters during the January 2011 uprising which toppled Mubarak last February.
In a trial session in January, Mubarak's chief defense lawyer, Farid al-Deeb, said only a military court has the authority to try him on corruption charges, citing Law 35/1979, issued by former President Anwar al-Sadat to honor military leaders who took part in the October 1973 war with Israel. The second article of this law stipulates that those officers would be granted a lifetime military designation should they become civil servants, as Mubarak did.
Last week, Cairo Criminal Court, which oversees the case, concluded the trial. Judge Ahmed Refaat announced that a verdict would be delivered on 2 June.