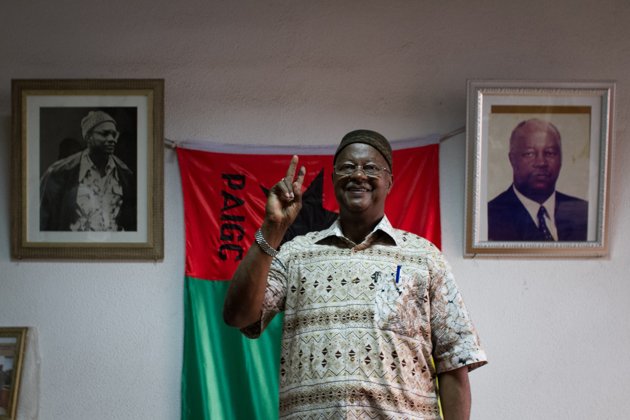 Soldiers in Guinea-Bissau seized government offices and controlled main roads in the capital on Friday after attacking the former prime minister's home in an apparent coup to derail his election to the presidency, diplomats and residents said.
Unidentified soldiers attacked Carlos Gomes Junior's residence in the crumbling coastal capital Bissau with machine guns and heavy weapons fire on Thursday evening.
The whereabouts of Gomes Junior, the presidential candidate of the ruling PAIGC party who was known to be unpopular with elements of the restless military in the coup-plagued West African state, remained unknown on Friday.
There were conflicting reports about what could have happened to the former prime minister. One media report said he had been detained by soldiers, while earlier rumors said he had been killed, or had escaped and was sheltering in a foreign embassy.
Armed soldiers guarded the offices of the presidency, government buildings, the state broadcaster and main roads in and out of the city.
It was not immediately clear who was leading the military operation, which was condemned as an "attempted coup" by foreign ministers of the West African regional grouping ECOWAS.
A communique from a self-styled "Military Command" read on the Portuguese RDP Africa radio said it had acted to head off what it alleged was a secret pact between Gomes Junior and Angola to "annihilate the Guinea-Bissau armed forces."
The unsigned communique said the Military Command "did not have ambitions of power," but did not elaborate further.
Angola, which due to its oil wealth is much richer than Guinea-Bissau, had been providing military trainers and advisers to the smaller state in a military cooperation mission. But it announced a few days ago that it was ending the mission.
Diplomats believed, however, the real target of the coup was Gomes Junior, who won close to an outright majority in last month's first round of voting in a presidential election. He was widely expected to be elected in a run-off set for 29 April.
"It's very well known that the army didn't like Carlos Gomes Junior and he was about to be elected. So they either had to kill him or make sure he wasn't elected," one Bissau-based diplomat, who asked not to be named, told Reuters.
Gomes Junior had supported cutting down the number of troops.
The United States called for the restoration of civilian leadership in the small, impoverished former Portuguese colony, which has a history of bloody coups and barracks revolts.
"It is regrettable that elements of the Bissau-Guinean military have chosen to derail the democratic process in Guinea-Bissau," the US embassy in the country said in a statement.
In Bissau, a political source who asked not to be named said soldiers had arrested the country's interim president, Raimundo Pereira, a former parliament speaker who is also a PAIGC member.
There were reports of soldiers ransacking the homes of ministers and senior officials, many of whom were in hiding.
After Mali, another regional headache
The Guinea-Bissau events pose another headache for ECOWAS, which is already struggling to deal with a crisis in Mali, where a coup last month triggered the occupation of the northern half of the country by Tuareg and Islamist rebels.
Facing international pressure, the Mali coup leaders have handed over power to a civilian interim president.
"As in the case of Mali, ECOWAS formally and rigorously condemns such an attempted coup d'etat (in Guinea-Bissau)," Ivorian Foreign Minister Daniel Kablan Duncan said in Abidjan late on Thursday.
Guinea-Bissau Foreign Minister Mamadu Djalo Pires, who was also in Abdijan, called for an "energetic reaction" from the international community against what he said was a coup.
Guinea-Bissau, whose weak governance has made it a haven for Latin American drug cartels transshipping cocaine to Europe, was in the middle of electing a president to replace Malam Bacai Sanha, who died in a Paris hospital in January after an illness.
Gomes Junior's rival in the run-off, Kumba Yala, had said he would boycott the vote over alleged first-round rigging. Only hours before the attack, Yala, a former president who claims ethnic ties with the mostly Balanta military, had warned of "consequences" if campaigning for the second round went ahead.
Guinea-Bissau, which won independence in 1974, is one of the world's most fragile and volatile states. Its main official export is cashew nuts and an ordinary Bissau Guinean lives on less than US$2 a day.
Political assassinations, health problems and meddling by an oversized military have prevented any president from serving a full term since multi-party politics began in 1994.
Top military officials in Bissau have been accused by the United States of being drug runners.