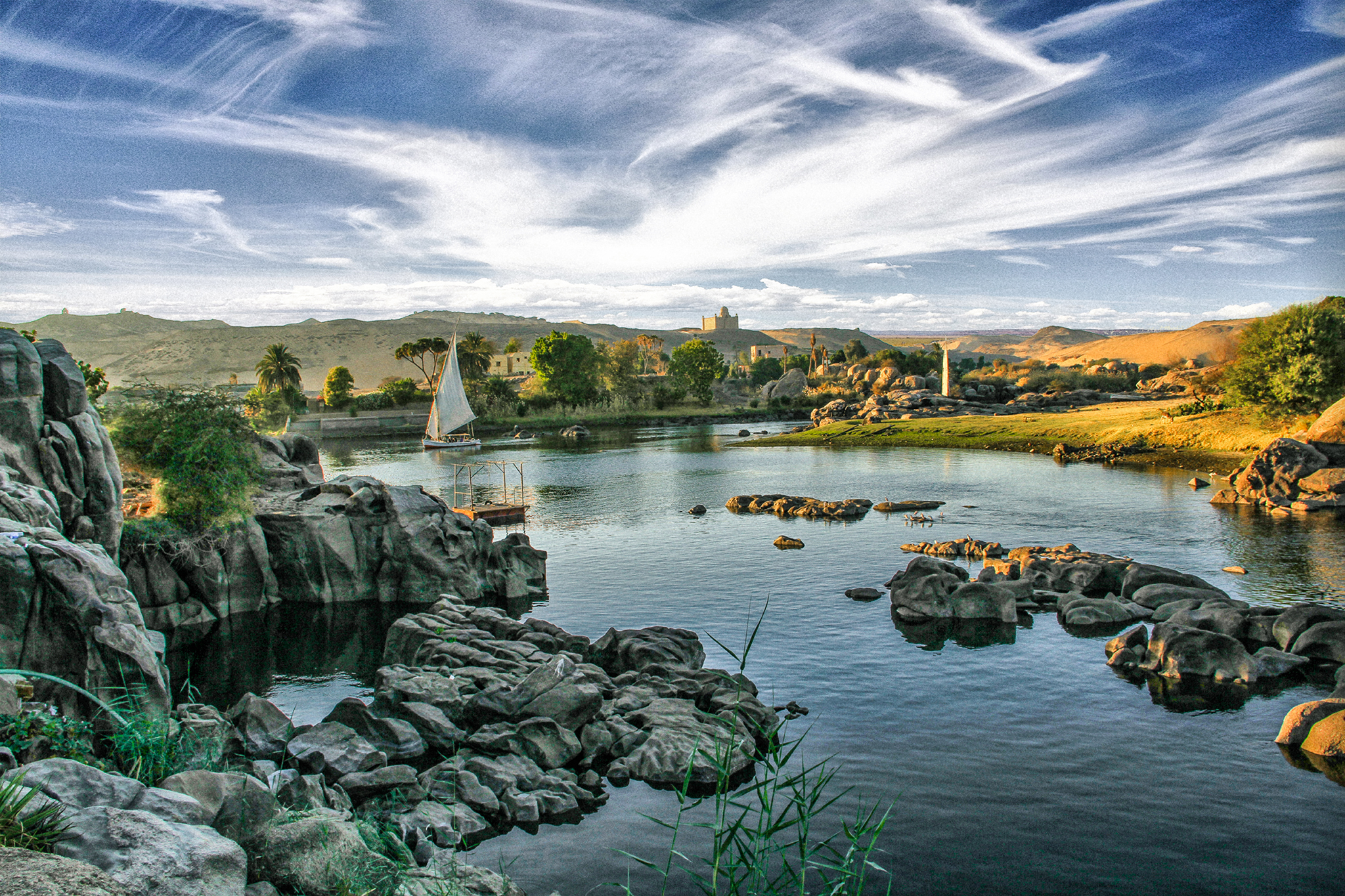 A ministerial group, composed of the local development minister, housing minister and youth and sports minister, have inspected the developing, beautifying, landscaping and lighting of Aswan's roads in preparation for the Arab and African Youth Forum next Saturday, as Aswan has been chosen as the capital of African youth for 2019.
The ministers were accompanied by Dr. Mostafa Waziri, Secretary General of the Supreme Council of Antiquities, and Aswan Governor Major General Ahmed Ibrahim.
Minister of Housing Assem al-Gazzar stated that development Aswan will later include infrastructure development work, such as on the road networks and city entrances. 
He pointed out that sewage stations projects Kima 1 and 2 are a major development for the city's drainage structure.
Inspection of the Airport-Corniche road show that the road is 20 km long and is divided into 3 sectors, he added, starting from the Aswan airport gate through the Sadat roads and to the end of the Aswan city corniche, with development of the road to be concluded within days.
Work on the road will include repairing, paving, cleaning, landscaping, constructing ponds, and other developments.
Local Development Minister Mahmoud Shaarawy meanwhile said that since President Abdel Fattah al-Sisi announced Aswan as the 2019 capital of African youth, Prime Minister Mostafa Madbouly commissioned a group of ministers to coordinate on the rehabilitation of several existing facilities in Aswan.
The ministers inspected the Aswan Airport, the corniche road, the irrigation park, the Nile Museum, the Philae Temples, the sewage treatment plants, the botanical garden and more.
The Arab African forum will take place from March 16 to 18 in Aswan. The forum will discuss issues related to the future of the Arab region and the African continent.
Participants will discuss the future of scientific research and health care services, and the impact of modern technology in Africa and the Arab region. There will also be a round-table for dialogue among participants on ways to benefit from the Nile Valley as a corridor for Arab and African integration.
A workshop for "Sahel area development" will be held, as well as two entrepreneurship workshops on "How to be a Successful Entrepreneur" and "Social Entrepreneurship from an African Perspective."
The forum includes many cultural and recreational events, and a tour will be held for participants in the forum. The forum will also be decorated with colors derived from the culture and spirit of the city of Aswan.
Edited translation from Al-Masry Al-Youm