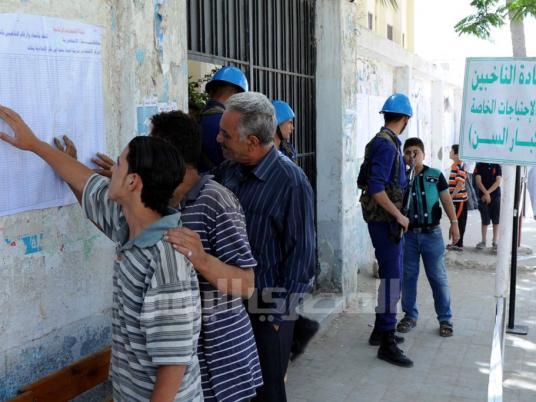 ALEXANDRIA — Despite long lines and hot weather, people in Egypt's second-largest city, ventured to polling stations to vote in the country's first free and fair presidential election.
In Old Alexandria, where much of the city's working class lives and works in the downtown area, many voters told Egypt Independent they would vote for Nasserist candidate Hamdeen Sabbahi or moderate Islamist Abdel Moneim Abouel Fotouh.
There was a strong deployment of military police and naval forces across the city, especially around polling stations.
On Wednesday, the first day of the first round of voting, military personnel cruised the coastal city in jeeps blaring old patriotic songs, encouraging people to vote.
In the downtown area of Bahary, which comprises Ras al-Teen, Tabya and Qait Bay, most voters are living on less than LE800 per month. People here primarily said they would vote for Sabbahi or Abouel Fotouh, because they are tired of being "robbed."
In this dense, urban district, many residents live in slums with poor plumbing along the Mediterranean, adjacent to the prestigious 6th of October Military Beach Club. Some say their main concern is ensuring Egypt does not return to the hands of former President Hosni Mubarak's cronies.
"How can [Ahmed] Shafiq and [Amr] Moussa have the guts to run when we know how much they corrupted this country while staying loyal to the regime they were part of?" asked Tabya resident Hekmat Fahim, 54. "Where is the social justice? I can guarantee that if they win their fates will be like [Mubarak's] and we will have another revolution."
On Wednesday afternoon around the downtown district, many supporters of Abouel Fotouh and Muslim Brotherhood candidate Mohamed Morsy continued to campaign in violation of election regulations.
Abouel Fotouh supporters sitting in ahwas adjacent to Qait Bay Preparatory School surreptitiously handed out campaign fliers as they offered to assist people in finding their polling stations using their personal laptops.
"They're handing us out these fliers," said Mostafa al-Sebaa, a shop owner in the area. "Shafiq and Moussa campaigners were here earlier; they bought some products from me and tried to convince people in my shop to vote for their candidates, then verbal arguments broke out between the two [groups]."
In Bahary, violations were reported regarding Abouel Fotouh, Morsy, Moussa and Shafiq campaigners. One woman wearing a niqab and another veiled woman were stopping people nearby Qait Bay Preparatory School and encouraging them to for Morsy.
A local from the area who was casting his vote at the same polling station told Egypt Independent that he hoped a Brotherhood candidate would not make it to the runoff phase.
"Abouel Fotouh has a clear program. He's an honest man and has no political affiliation, he will work for us," said 48-year-old Magdy Mohamed, a downtown resident. "No way will I vote for Morsy, we made the mistake of voting a majority of the Brotherhood into Parliament; they are doing nothing and are powerless."
Throughout the city, the Brotherhood and Salafi voters had a strong presence at voting centers.
Many Salafi voters said they were supporting Abouel Fotouh. Nader Bakkar, spokesperson for the Salafi-oriented Nour Party and an Alexandria native, recently announced that the party would back the Islamist candidate because his program "makes the most sense" according to the Salafi movement's teachings.
One young Brotherhood supporter circled around the Qait Bay Preparatory School polling station, smiling and encouraging people to vote for Morsy. Despite his support for the Brotherhood, however, he was eager to encourage other young voters not to waste their ballots.
"Even if you don't want to vote for an Islamist candidate, just don't give your vote to Moussa or Shafiq; it makes no sense to turn the country over to people from the old regime," said Hossam al-Sebaay.
Voters interviewed in the more upscale districts of Alexandria primarily said they were voting for Moussa, Shafiq or Sabbahi. Many said they would avoid any Brotherhood candidate.