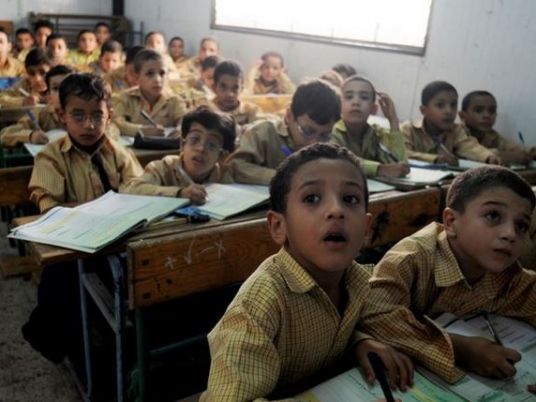 PART 2: In the first part of our 'Money for nothing' special feature, we reported on claims that private and international schools were obtaining money from parents under false pretenses, often accepting application fees for school places that don't exist. In part two, Tarek Talaat, head of the Private and International Education Sector at the Ministry of Education, responds to allegations of wrongdoing on the part of private schools, outlining the ministry's efforts to tackle the issues.
According to Tarek Talaat, head of the Private and International Education Sector at the Ministry of Education, the ministry is aware of a wide range of problems related to private and international schools in Egypt, and it is taking action to solve the issues.
In an interview with Al-Masry Al-Youm, Talaat says that, while the ministry is not against private and international educational institutions, it does demand that they abide by the law, particularly when it comes to charges for educational services and registration procedures.
According to Talaat, schools that charge non-refundable fees for applications are breaking the law, and the ministry is ready to take action against any schools engaged in such practices. A planned computer-based registration system should help to keep tabs on the application process, and he calls on parents to assist in its smooth implementation.
He says also that the government is aware of the negative impact some private schools are having on the economy, since their insistence on collecting fees in dollars has compounded Egypt's ongoing foreign currency crisis.
Al-Masry Al-Youm: How many private and international schools are there in Egypt and what are the different kinds?
Tarek Talaat: There are 6,200 private schools in Egypt, including 260 international schools implementing curricula from various points of origin: Canadian, British, German, French, American, etc.
AMAY: How many of those schools have not completed the necessary licensing procedures?
TT: There are 60 international schools that have not completed their licensing, and there is a ministry decree outlining the steps necessary for obtaining the licenses, but many of the schools have not taken those steps yet. Because of ministry decree number 295, issued in 2015, private schools are now facing difficulties granting their students American diplomas. We don't approve them at our end.
AMAY: What procedures does the ministry take against violations regarding interview processes of schools?
TT: There are a large number of violations at these schools and we counteract them by first issuing a warning, and then by revoking licenses. And according to ministry decree number 420, issued in 2014, schools are forbidden from charging parents for students' admission interviews or tests.
AMAY: What action does the ministry take against schools that charge new students for admission interviews but do not reimburse them if they are not accepted at the school?
TT: Parents should refuse to pay money if their child has not yet been accepted, whether it be fees for application processing or admission tests or interviews. They should also refrain from signing any documents that include a non-refundable clause. By law, in such cases, a committee is formed and the school is given 15 days to reimburse the student for any admission fees they may have charged [if the student has not been accepted].
AMAY: What are the reasons behind schools not abiding by ministry-issued admission dates?
TT: All schools are required to start admission of new students on June 1st of this year, and not before. Any schools that don't abide by this are subject to legal action.
AMAY: Most schools have already finished admitting new students and the second half of the school year isn't over yet. There are no places for new students. How can this problem be solved?
TT: There are plans to create a unified electronic system, one that handles new admissions to all schools and ensures that all admissions are carried out at the same time. It should be up and running by the start of the next academic year. For this to work, we need the co-operation of the parents.
AMAY: What are the ministry's procedures against schools that charge donations or request the purchasing of school stocks in exchange for admissions?
TT: Any requests on the school's behalf urging the parents to donate money or buy stocks or invest in the school in any way are seen as a clear legal violation and parents must report any such activities. Private and international schools have been asked to announce their fees when admissions open and not to charge parents any extra fees unless the school can provide ample reasons to.
AMAY: Is it true that the ministry cannot interfere in the affairs of international schools because the embassies of the countries to which they are connected can overrule Egyptian government decisions?
TT: That is absolutely not true. The ministry has decreed that the administrations of the two largest international schools in Egypt be supervised by the ministry, those schools being Choueifat and AIS. This is because they collect fees from their students in dollars, and charge extra fees when the students are unable to pay the dollars on time. This is against the law, which dictates that all fees must be collected in Egyptian pounds. The parents rush to buy dollars to pay the school fees, which contributes to there being a dollar crisis in Egypt.
AMAY: What actions does the ministry take against parents reserving places for their children at any school by enrolling them in the "baby class"?
TT: Most of the time, this happens to ensure that students are in the same schools as their siblings. But there is not much we can do to control this, because licensing for students below 3 years of age is conducted by the Ministry of Social Affairs.
AMAY: There have been complaints of discrimination in the interview process of some schools. Has the ministry provided a fixed model of interview questions that all schools must abide by?
TT: We aim to create a unified test that measures the students' abilities and not their backgrounds. It is unfair to not accept a student because of their parents, whatever the reason may be. Additionally, any favoritism shown by the school towards any student is against the law.