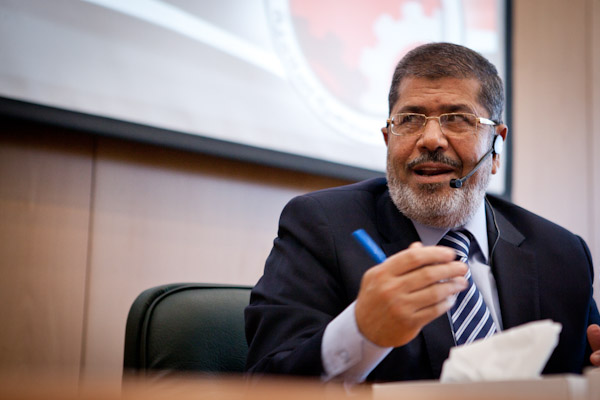 President Mohamed Morsy called on Sunday for a common African market.
In his speech to the African Union summit in Addis Ababa, Ethiopia, Morsy said "Egypt needs help from all African countries to rebuild. Egypt seeks to evolve and grow in the vicinity of its African family."
His participation at the summit is the first by an Egyptian president since an assassination attempt on former President Hosni Mubarak in 1995, also in Addis Ababa.
Morsy explained that Africa's people and resources are a source of wealth. Africa will develop with the help of its human resources, which is "the backbone of development" he said. "It's time for a new economic system in Africa."
Egypt's new president said his country has the means to succeed within the framework of the African Union and African countries, with the help of the Common Market for Eastern and Southern Africa (COMESA).
"I would like to officially announce that Egypt has a desire to work towards a common African market. Egypt will use its human and financial resources to ensure that. We stress our concern with education, health, construction and development."
Morsy pointed out that there are many varied resources in Africa.
"What is required is determination and the integration of these resources, and as you know we are considering cooperative efforts to develop them by strengthening trade between African countries," he said.
"During the recent summit, a road map was drafted to promote common trade. This is an economic issue of great importance in Africa, which faces challenges in light of the global financial system."
Edited translation from Al-Masry Al-Youm