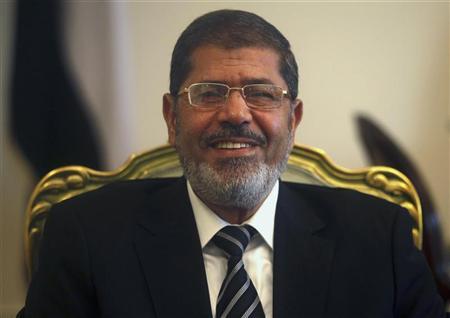 President Mohamed Morsy proposed an initiative that he said could resolve the crisis in Syria during an interview with the official Russian news source, Itar-Tass.
Morsy's office posted part of the interview on YouTube Thursday evening.
The president had earlier proposed the formation of a quartet including Egypt, Turkey, Saudi Arabia and Iran to step in to negotiate an end to the conflict, but in the interview, he proposed expanding the initiative to include Russia, Qatar, China and the European Union.
"We must act quickly, as blood is being shed every day," he said, adding that the Syrian crisis affects the region, Russia and the whole world.
At least 70,000 have been killed in campaigns by the Syrian army against demonstrations that broke out in 2011 to demand the ouster of President Bashar al-Assad.
Egypt calls on Assad to step down, while Russia supports the Syrian president and rejects foreign military intervention.
Morsy is on a two-day visit to Moscow to meet with Russian President Vladimir Putin.
Edited translation from Al-Masry Al-Youm