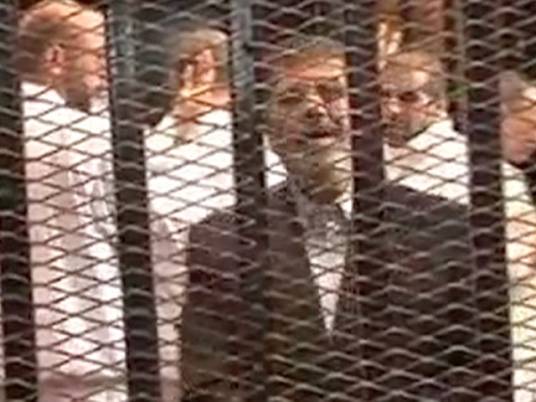 The Cairo Criminal Court postponed the trial of toppled President Mohamed Morsy and 14 others over Ettehadiya Palace clashes to Wednesday 14 May.
On Tuesday the court heard from prosecution witnesses and will continue doing so Wednesday as the ban on publicly broadcasting or recording the trial continues.
During the previous hearing, the court heard from two prosecution witnesses for over two hours. The first was Brigadier Mohamed Mahmoud Tawfiq who was asked 35 questions by the court, 50 questions by Morsy's lawyers and 25 by the lawyer assigned by the Lawyers Syndicate to defend Morsy. The second witness was Major Shady Wessam Nagy who was asked 20 questions by the court, 30 questions by other Muslim Brotherhood defendants' lawyers and 10 questions by Morsy's defense.
The court approved a request by the defendants' lawyers to bring food and clothes to the defendants in prison.
Morsy opponents staged protests in December 2012 at the Ettehadiya presidential palace against the constitutional declaration the toppled president issued to immunize his decisions against judicial challenges.
The defendants are accused of killing and inciting the killing of protesters in clashes outside the presidential palace.
Edited translation from Al-Masry Al-Youm