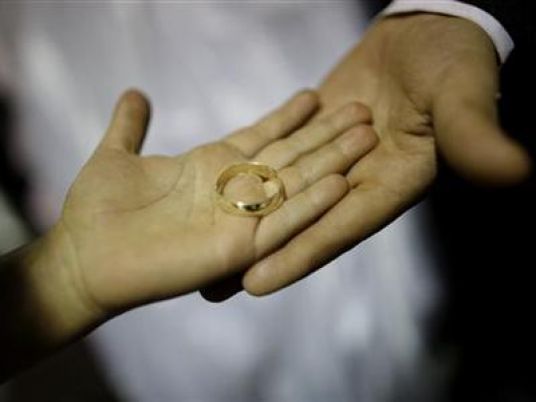 A bill has been submitted to the House of Representatives on a mandatory comprehensive psychological medical examination before marriage in Egypt, Karim al-Sadat, a member of the House of Representatives, said.
Sadat, who submitted the bill, said it aimed to preserve the cohesion of society, and the health and psychological state of spouses to form a socially and psychologically healthy family.
To have psychologically healthy children that are useful to society and the state as a whole, Al-Bawaba News website said.
In an exclusive statement to Al-Bawaba News, more information was given about the draft law that aims to protect those who are about to marry and suffer from genetic or immune diseases that are passed down to children, which causes instability in family life and leads to major problems for the new generations.
The bill guarantees providing necessary treatment for different cases to establish a normal family life that benefits the state in various fields, and alleviates treatment burdens on spouses after marriage, he added.
Sadat explained that the bill requires that those who are about to marry conduct a medical examination on all parts of the body, including an assessment of the mental and psychological status of each of them, in order to verify that they are free of diseases that affect their lives, health, or the health of their offspring.
The bill obliges the Maazoun or authorities documenting the marriage not to document it unless unless a comprehensive medical certificate for psychological health is provided by both parties of the marriage.
In case one or both parties provide unhealthy psychological results, an acknowledgment is written and signed by them that they are aware of the case of their spouse and agree to the marriage nevertheless.
The costs of the psychological certificates will not exceed LE500, he added.
The Maazoun is punished with a one year prison sentence and a fine of LE50,000 in case of violation of the law and going ahead with the marriage.
The total number of divorce cases in Egypt reached 222,036 cases in 2020 compared to 237,748 cases in 2019, a decrease of 6.6 percent, according to the Central Agency for Public Mobilization and Statistics (CAPMAS) statistics.
The highest divorce rate was recorded in the age group from 30 to less than 35 years old.
The total number of marriages across Egypt increased to 928,800 contracts in 2019 compared to 887,300 in 2018, CAPMAS said, an increase of 4.6 percent.
Divorce certificates meanwhile reached 225,900 in 2019 compared to 211,500 certificates in 2018, an increase of 6.8 percent.