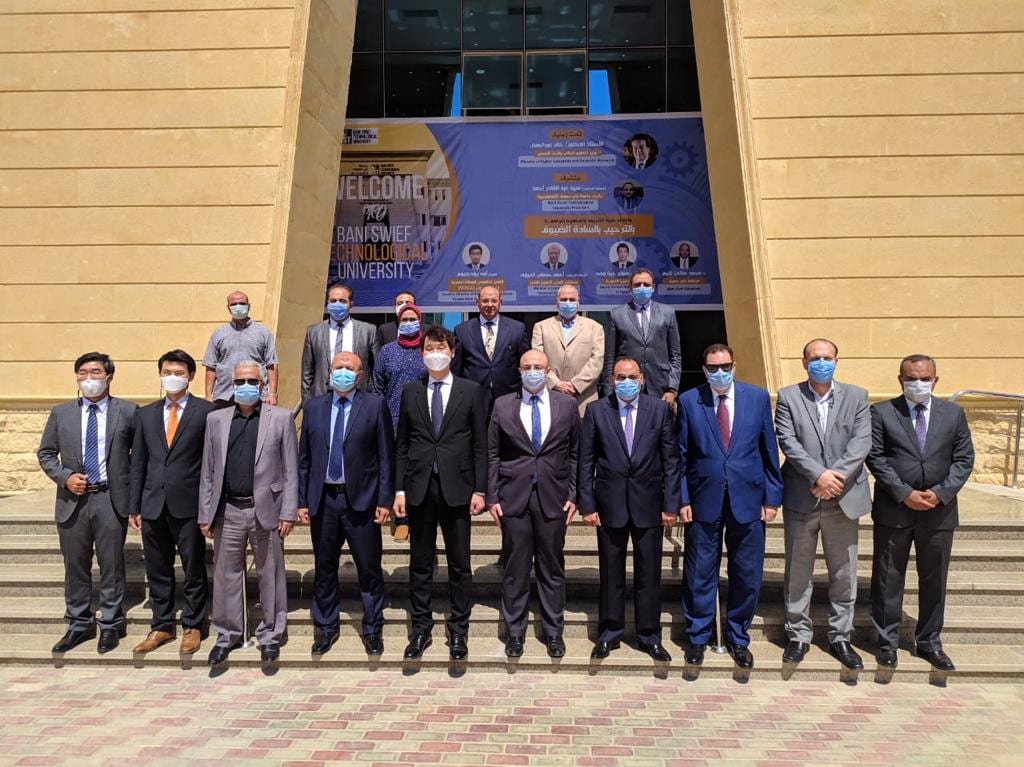 The newest Korean Ambassador has made his first visit to Beni Suef on Friday, a hotbed for Egypt-Korea educational and industrial collaboration where factories belonging to Samsung Electronics and Ulhwa Egypt for Textiles, and the Korea-Egypt Beni Suef Technological University are located.
Also coming as his first trip outside of Cairo since arriving in July, Ambassador Hong Jin-wook's visit to Beni Suef saw him meet with the Governor of Beni Suef, Hani Ghoneim.
Ambassador Jin-wook congratulated Ghoneim on being the youngest governor in Egypt's history.
He further hailed the Egyptian government's eagerness to allow young talent to take on leadership responsibilities, which the Korean government supports by sharing with Egypt its expertise in human resources development.
The ambassador added that his visit coincides with the signing of a Memorandum of Understanding between the Korean National Human Resources Development Institute and the Egyptian National Training Academy, which will lead to tangible outcomes in the near future.
Beni Suef is the Korean government's strategic partner through Korea's Official Development Assistance in the Upper Egypt region, which follows suit with the Egyptian government's policy to promote the development of Upper Egypt.
Following their meeting, Ambassador Jin-wook and Governor Ghoneim toured the Beni Suef Technological University, a US$5.83 million project first initiated in 2016 between the presidents of Egypt and South Korea, and later established in 2019 by joint efforts between the Korea International Cooperation Agency, Ministry of Higher Education and the Beni Suef Governorate.
The university has served as a role model for educational and industrial development in less than a year since its opening, and plans to expand further through joint cooperation between the two nations.
This leading educational institution in the region aims not only to empower youth and provide more career opportunities for them, but also to attract investments to develop the local economy.
The ambassador also expressed the Korean government's eagerness in supporting technical and S&T education within Egypt.
This comes in line with the importance Egypt's government has attached to education and expanding development of  technical universities which can produce the skilled labor Egypt needs to meet its desires for industrialization and development.
Choosing Beni Suef for such a project is part of Egypt's efforts to develop the Upper Egypt region and of Korea's interest in facilitating the creation of an echo system for industrial development in Egypt through linking educational outcomes with labor market needs, he added.
The ambassador also said that Beni Suef is now emerging as a manufacturing hub with the presence of industrial zones and mega industrial projects including Samsung Electronics and other medium-sized Korean companies, all of which requires highly skilled and trained labor.