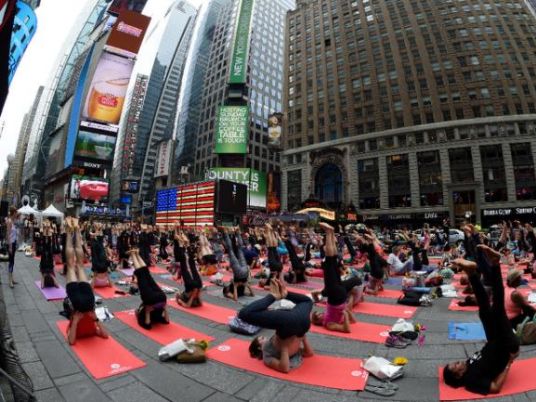 New York City created a task force on Thursday to examine how it can rein in topless women and costumed cartoon and superhero characters who officials believe are aggressively soliciting tips after posing for tourists' pictures in Times Square.
"Over the past several months, serious concerns have been raised about both the appropriateness of topless individuals in Times Square, as well as aggressive solicitation by topless individuals and costumed characters that often times becomes harassment of New Yorkers and visitors alike," Mayor Bill de Blasio's office said.
Convened by the mayor and co-chaired by New York City Police Commissioner William Bratton and Planning Commissioner Carl Weisbrod, the task force will report its findings by October 1.
Times Square, with its Broadway theaters, huge video billboards, hawkers and tourists, has cleaned up its image in the past 20 years and turned itself into a hub for media and banking.
That is a far cry from the 1970s when the city was practically broke and Times Square was synonymous with crime, peep shows, prostitution and drugs.
While the arrival of topless women painted red, white and blue seeking tips is relatively new, costumed characters such as Mickey and Minnie Mouse, Goofy, Iron Man, Thor and Betty Boop have sidled up to tourists in Times Square for years for pictures and a quick buck.
"You know, de Blasio is not a king. He has the same rights as me. We're all artists and street performers. We self-regulate to protect our tomorrows," said one performer dressed as Thor, who refused to give his real name.
A Reuters witness could not find any painted topless women walking the area on Thursday following a media storm over reports they were behaving aggressively, but one veteran guitar-strumming crooner was not upset.
"I'm putting 500 or 600 bucks in my guitar a day. The girls not being here, we clean up," said Robert Burck, a former stripper from Cincinnati known globally as The Naked Cowboy.
Burck says he lets tourists approach him. He has been in Times Square dressed in nothing but his underwear, cowboy hat, boots and guitar since 1998. In over 800 deals, he has licensed his image and endorsed products ranging from Google's Android operating system to Fruit of the Loom underwear, according to his agent, Todd Rubenstein.
"I would say he's a millionaire a few times over," Rubenstein said.