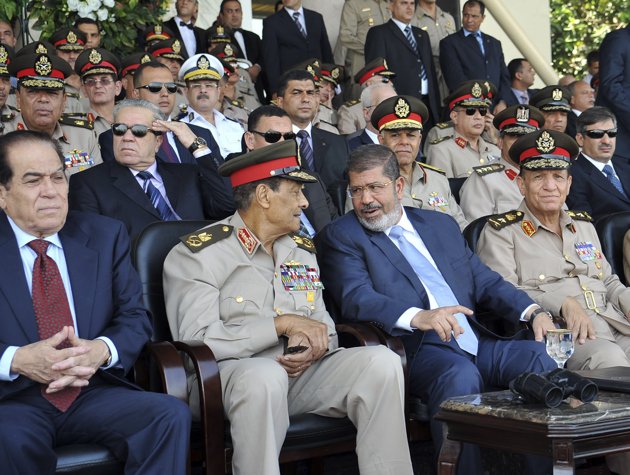 A human rights report issued by an NGO called on President Mohamed Morsy to refer current and former officials to trial in the aftermath of an attack at the border earlier this month.
The Appropriate Communications Techniques for Development group issued the report, which asked that former military council head Hussein Tantawi, former intelligence chief Mourad Mowafy and the North Sinai governor be charged with "gross negligence, the willful harm of the safety of the homeland, and failure to perform the tasks entrusted to them after 16 recruits were killed in an attack on a military checkpoint in Sinai two weeks ago."
The organization issued another report evaluating Morsy's performance. It accused him of following "policies to crack down on the freedom of opinion and expression, contrary to his promises during the [campaigning] period, as he said freedom of information during his reign would not be harmed."
The report accused the Muslim Brotherhood of adopting exclusionary policies that favor the interests of the group over the interests of the nation.
The suspension of Al-Faraeen channel and the confiscation of an edition of Al-Dostour newspaper is a "severe blow to public freedoms that strike warning bells about the rights and freedoms in light of the choice of chief editors of national newspapers," the report further said.
The report said Morsy "let women down for the second time" after the appointment of only two women in the Cabinet, which it said brings to mind policies of the formerly ruling National Democratic Party pertaining to women's representation and participation.
Women's representation in the Cabinet under Prime Minister Hesham Qandil is no more than 5.7 percent, the report stated.
Granting Tantawi and former Armed Forces Chief of Staff Sami Anan orders and medals of the republic and making them presidential advisers is a "deviation from the path of the revolution and confirms the lack of real political will to eliminate corruption," the report said.
Morsy had forced Tantawi, the former defense minister, and Anan into retirement Sunday, appointing replacements for their posts and canceling a military-issued supplement to the Constitutional Declaration that had diminished the president's powers.
Novelist Alaa Al Aswany had said on Twitter Friday that during a meeting with political groups, Morsy did not rule out the possibility of trying former officials.
Aswany said he asked Morsy about honoring Tantawi and Anan and not referring them to trial, and Morsy responded saying that nobody is above accountability in Egypt anymore.
But military experts criticized revolutionary movements calling for the military retirees to stand trial.
Major General Hossam Sweilem told Al-Masry Al-Youm that calls to prosecute members of the military council without providing real evidence to condemn them is a "lack of decency and a betrayal of Egypt."
Sweilem described those who call for their trial as "traitors to Egypt and to the efforts of the military council over the transition period."
Military expert and retired Major General Talaat Mesallam said the movements that demanded the prosecution of former military leaders do not have evidence on what they say. He said what they are calling for are "just slogans that aim to separate the people and the Armed Forces."
Edited translation from Al-Masry Al-Youm