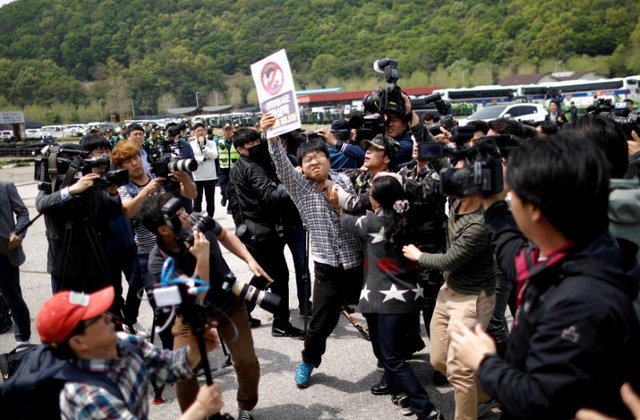 Human rights and North Korean defector groups in South Korea say they are struggling to raise money, cutting jobs and programs, and facing pressure to avoid criticism of Pyongyang as Seoul and Washington focus on diplomatic outreach to the isolated country.
Activists say they were disappointed but unsurprised human rights has seemingly disappeared from the agenda as South Korean and American leaders met with Kim Jong Un in recent months.
"As South and North Korea have promoted this 'mood for peace,' the defectors and North Korean human rights activist groups feel excluded," said Kim Tae-hee, a defector who heads the Coalition for North Korean Refugees.
The South Korean government recently closed the office of a human rights foundation, and representatives of several non-governmental organizations told Reuters they have struggled to secure funding.
Citing a lack of financial backing, as well as recent clashes between police and groups trying to send leaflets into North Korea, Kim said she feels the government is undermining the work of human rights and defector NGOs.
"I feel that an invisible hand is at work," she said.
The Unification Ministry said its stance remains that it "will strive to comprehensively protect the civil liberties and social rights of the North Korean people". A spokesman on Wednesday highlighted efforts to help North Korean defectors settle in the South.
But President Moon Jae-in's administration has moved away from criticism of Pyongyang's rights record in favor of engagement.
Senior aides to Moon have told Reuters they believe confronting Pyongyang could be counterproductive and possibly harmful to North Korean citizens, who will continue to suffer if their government remains isolated.
'Ambivalence'
UN investigators have reported the use of political prison camps, starvation and executions in North Korea, saying security chiefs and possibly even Kim Jong Un himself should face international justice.
Between 80,000 and 120,000 people are held in political prison camps, the UN's top North Korea rights official reported last year.
The North Korean mission at the United Nations did not respond to requests for comment, but state media has released a steady flow of commentaries this year, warning taking issue with rights could undermine the detente.
Even before Moon responded to Kim Jong Un's overtures in January, there were signs support for some defectors and human rights activists was waning.
The South Korean government ended nearly 20 years of funding for the Association of North Korean Defectors in December, forcing the organization to end most of its programs, move to a smaller office, and lay off staff, said Seo Jae-Pyoung, the association's secretary general.
"Only two people… are both working here now," Seo said. "We have been working unpaid since earlier this year."
Seo said some South Korean citizens told his group to stop launching propaganda leaflets into North Korea because it would "throw a wet blanket on improving inter-Korean relations".
Officials with the International Coalition to Stop Crimes against Humanity in North Korea (ICNK), which is affiliated with international organizations like Human Rights Watch and Freedom House, said they have struggled to win new government grants.
"There have been no direct restrictions or notices by the government, as far as I know," said Kwon Eun-Kyoung, Secretary General of ICNK. "But I feel that there is definitely ambivalence among some working level government officials and even the press, who don't proactively talk about North Korean human rights."
Joanna Hosaniak, deputy director general at the Citizen's Alliance for North Korean Human Rights, said her organization had also seen donations from South Korean corporations dry up over the past year, amid changes in the domestic and international political climate.
When Thae Yong Ho, a former North Korean diplomat to the UK who defected in 2016, stepped down from his position at a government-affiliated think tank after North Korean media called him "human scum," some in South Korea saw it as an attempt by the government to distance itself from defectors.
Thae did not respond to a request for comment, but told media at the time the decision was his own and he thought it would boost inter-Korean relations.
Foundation delayed, ambassador not appointed
Just after the summit between Kim Jong Un and US President Donald Trump on June 12, the South Korean government announced it was ending funding for an office for a new organization called the North Korean Human Rights Foundation.
The foundation was established under the 2016 North Korean Human Rights act to lay "the legal and institutional foundation for protection of human rights in North Korea" but has yet to become fully operational.
While the Unification Ministry says it is still working to get the foundation up and running, critics say the delays highlight the administration's lack of commitment to addressing human rights abuses.
"I am worried that the South Korean government is tiptoeing around North Korea amidst the mood for dialogue, being careful about the issue of human rights," Hong Il-pyo, a right-wing South Korean lawmaker, told Reuters.
Without the foundation, other aspects of the law, including funding for projects, may be harder to implement, said Kim Tae-hoon, head of Lawyers for Human Rights and Unification of Korea.
"This was one of the cornerstones of the North Korean Human Rights act," he said.
North Korean state media has called recently for Seoul to repeal the act and abolish the foundation, as they are only "good for doing harm in light of the current trends of the North-South relationship".
The position of Ambassador-at-large on North Korean Human Rights, meanwhile, has been empty for nearly 10 months.
"This role enabled us to form a community to work closely with other North Korean human rights activists and experts," said Yonsei University professor Lee Jung-hoon, who held the ambassador role until last September.
"Nobody is against the dialogue with North Korea," he said. "But I hope that there will be discussions beyond nuclear and security issues. Human rights are a very, very important component of a real peaceful endgame for the Korean peninsula."