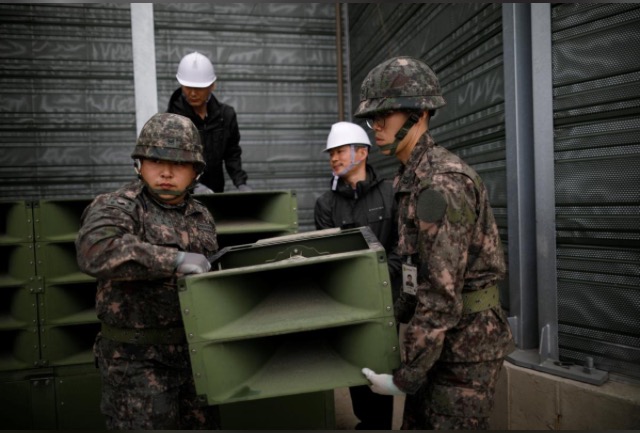 North and South Korea began dismantling loudspeakers that blared propaganda across their heavily fortified border on Tuesday, South Korea's defense ministry said, fulfilling a promise made at last week's historic summit.
The moves are the first practical, if small, steps toward reconciliation after Friday's meeting between South Korean President Moon Jae-in and the North's Kim Jong Un.
Moon, meanwhile, asked that the United Nations help verify North Korea's planned shutdown of its Punggye-ri nuclear test site in a phone conversation on Tuesday with U.N. Secretary-General Antonio Guterres, a statement from the presidential Blue House said.
Guterres said the requests need approval from the U.N. Security Council, but he wanted to cooperate to build peace on the Korean peninsula and would assign a U.N. official in charge of arms control to cooperate with South Korea, the statement said.
Several days before Friday's summit, the North surprised the world by declaring it would dismantle the test site to "transparently guarantee" its dramatic commitment to stop all nuclear and missile tests.
The Punggye-ri site, where North Korea has conducted all six of its nuclear tests, consists of a system of tunnels dug beneath Mount Mantap in the northeastern part of the country.
Some experts and researchers have speculated the most recent – and by far largest – blast in September had rendered the entire site unusable. But Kim said there were two additional, larger tunnels that remain "in very good condition".
BORDER LOUDSPEAKERS REMOVED
Along the border, South Korea started taking down its loudspeakers on Tuesday afternoon, a defense official said. Activity at several spots along the border indicated North Koreans were doing the same, he said.
For decades, with only a few breaks, the two sides have pumped out propaganda from huge banks of speakers as a form of psychological warfare. The South broadcast a mixture of news, Korean pop songs and criticism of the northern regime, while the North blasted the southern government and praised its own socialist system.
As a sign of goodwill, the South had stopped its propaganda ahead of the summit, and the North followed suit.
The incremental steps come amid speculation about where Kim will meet U.S. President Donald Trump, who said their planned summit could take place in three or four weeks.
Trump tweeted Monday that meeting Kim at the Peace House in the demilitarized zone, where Moon met Kim, would be an excellent venue.
"There's something that I like about it because you're there, you're actually there. Where, if things work out, there's a great celebration to be had on the site, not in a third-party country," Trump later told reporters at the White House.
But a senior U.S. official said Singapore was still high on the list of potential sites.
Singapore Prime Minister Lee Hsien Loong said on Saturday Singapore had not had any request to host the Kim-Trump meeting.
South Korea's presidential Blue House seemed to welcome the prospect of hosting the meeting in Panmunjom, the border village where the Peace House is located.
"Panmunjom is quite meaningful as a place to erode the divide and establish a new milestone for peace," a senior presidential official told reporters, asking not be identified because of the sensitivity of the matter. "Wouldn't Panmunjom be the most symbolic place?"