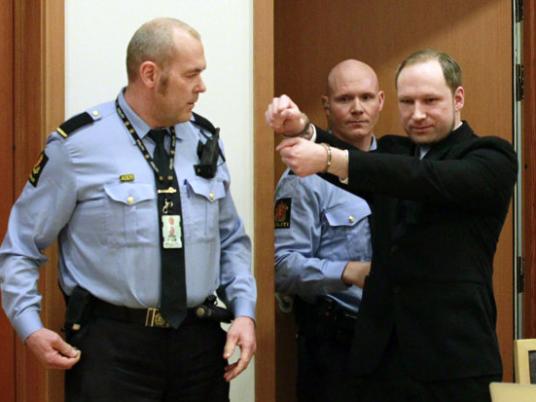 Thousands of Norwegians gathered in silence outside the government's still-damaged headquarters in Oslo and on Utoeya island on Sunday to remember the 77 people killed by Anders Behring Breivik in a bomb and gun massacre a year ago.
"The bomb and the shots were intended to change Norway. People responded by embracing our values. He failed, the people won," Prime Minister Jens Stoltenberg told the crowds, carrying red and white roses at the memorial in central Oslo.
Breivik, who said his mostly teenage victims were traitors because they supported multiculturalism and Muslim immigration, detonated a bomb outside parliament that killed eight, then shot dead 69 at the ruling Labour Party's youth camp on Utoeya.
"Very few people can go through a day without thinking of the events of July 22," said Vegard Groeslie Wennesland, a Utoeya survivor. "You know, a person you miss, someone you were supposed to hang out with or seek advice from or anything like this. Or something that just reminds you of what happened."
On the island on Sunday, about a thousand survivors
—
secluded from the media
—
met for a commemoration that included releasing a large, heart shaped helium balloon to which they had attached personal messages.
"It has changed me. I now appreciate the moment, enjoy life here and now," said Wennesland, who escaped Breivik by barricading himself in a cabin with about 50 others.
Closure has been difficult to achieve as Breivik's ten-week trial this year forced Norwegians to relive chilling horrors in detail day after day. A verdict is due on 24 August and a commission report on the events, is expected in coming weeks.
Breivik faces either indefinite mental care or a 21-year prison term with the possibility of indefinite extension.
"This anniversary is an important end to a cycle where families have had their first Christmas, birthday and national day without their loved ones," said Kitty Eide, a spokeswoman for the National Support Group for the victims and mother of a survivor.
Open society
The attacks shocked the Nordic nation of five million, which prides itself on its open society, consensus-seeking politics and economic success.
But Norway reaffirmed its commitment to an open society in the wake of the attacks and resisted calls for radical measures.
"I think both politicians and people, perhaps without directly saying so, have made it clear that they want society to remain unchanged," said Thomas Hylland-Eriksen, a Professor of social anthropology at Oslo University.
"They are going to preserve what they feel is most valuable in Norway: its openess and feeling of safety."
At a special mass in Oslo Cathedral, Bishop Helga Haugland Byfuglien told Norwegians: "The light shines in the darkness; darkness hasn't been able to overcome it."
Prosecutors have asked the court to declare Breivik insane, flying in the face of the public view that his lucid testimony shows he deserves prison, while Breivik wants to be declared sane and considered a political activist.
Breivik said his victims, the youngest of whom was 14, were brainwashed "cultural Marxists" whose immigration policies adulterated pure Norwegian blood and risked leading to a civil war with Muslims.
He arrived at the camp dressed as a policeman, claiming to have come to protect the camp, only to pull out a gun and shoot children from point-blank range with what witnesses described as a "joyous battle cry."