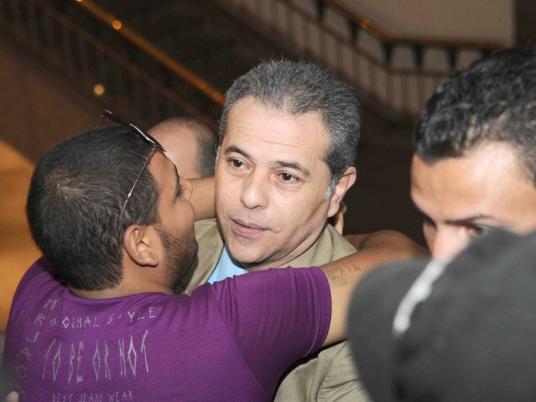 The Cairo Criminal Court adjourned the trial of controversial media figure Tawfiq Okasha on charges of attempting to incite the killing of President Mohamed Morsy to 5 December as the defendant was absent from the Wednesday session.
The court turned down a request from Okasha's defense team demanding that a travel ban on the television presenter be lifted. The defense also submitted a medical statement as evidence that Okasha is recuperating for three weeks to justify his absence from the session.
A number of Okasha supporters were present at the court. They chanted, "Down with the Supreme Guide's rule," referring to Muslim Brotherhood Supreme Guide Mohamed Badie, and "No God but God, the Brotherhood are the enemies of God."
The trial began on 1 September after the public prosecution referred Okasha to court on 13 August on charges of libel, defamation, and inciting the murder of the president.
State-run Al-Ahram reports that nearly 30 cases have been filed against Okasha, a talk show host and head of the privately-owned Al-Faraeen satellite channel, over statements he made that were critical of Morsy.
Okasha, who is known for his harsh criticism of the Muslim Brotherhood and its political rise since the 25 January revolution, said weeks after Morsy's victory that his presence in the presidential palace was illegal.
The Al-Faraeen channel was suspended on 16 August, with authorities threatening to revoke the channel's license if it did not make programming changes. A court ordered that it could resume broadcasting on 20 October in response to a lawsuit filed by Okasha.
Edited translated from Al-Masry Al-Youm