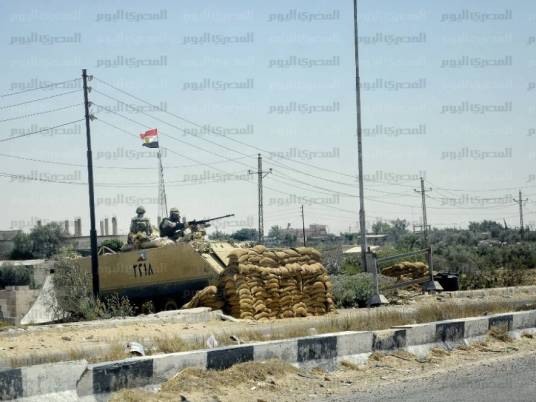 One body has been found close to the site of an alleged Israeli drone strike on Friday, a military source said.
Reports emerged on Friday evening that an Israeli drone had fired on a group of jihadis close to Rafah, near the border with the Hamas-controlled Palestinian Gaza Strip, an attack that was carried out in coordination with Egyptian officials.
Details of the attack are yet to be confirmed.
The source denied that Israel had violated Egypt's airspace, claiming: "Egypt's sky is completely secured."
The military source also said a motorcycle was found next to the body.
Armed forces spokesperson Ahmed Mohamed Ali denied Friday evening that Israel launched an attack on Egyptian territory, instead announcing a series of blasts had struck Rafah's al-Agra area.
"The armed forces are still combing the vicinity of the blast, accompanied by experts to gather evidence to determine the circumstances of the incident," Ali said on his Facebook page on Friday.
"Allegations about attacks by the Israeli side on Egyptian lands and also coordination between the Egyptian and Israeli sides about the [attack] are unfounded and unreasonable," Ali wrote.
"The armed froces urge media outlets to be accurate before circulating such information…as it forms a serious danger to national security and affects the sovereignty of the Egyptian state, which is not acceptable in any way," Ali said, adding that the safety of Egyptian borders are a red line.
AFP meanwhile quoted an Egyptian security source as saying Egyptian militants were killed in an air raid Friday in Sinai while preparing to launch rockets on Israel. It added sources suggested that the air strike came from Israeli forces, while others said it was by the Egyptian army.
Al-Arabiya news channel reported on its website that a huge explosion shook the area south of Rafah near the Egypt-Israel border. Reports suggested five jihadis were killed and others injured.
Eyewitnesses told Al-Arabiya that an Israeli aircraft had been hovering for a long time before a huge explosion in the area occurred.
Al-Arabiya quoted security sources as saying the aircraft was monitoring jihadists who were about to launch a rocket attack on Israel.
Associated Press quoted Egyptian security sources as saying that residents of the border area heard a huge explosion on Friday. According to AP the security sources said on condition of anonymity the Israeli air strike was launched after coordination with Egyptian authorities.
An Israeli drone targeted a known site for Egyptian jihadists, killing five and destroying a rocket base in Rafah, the sources said.