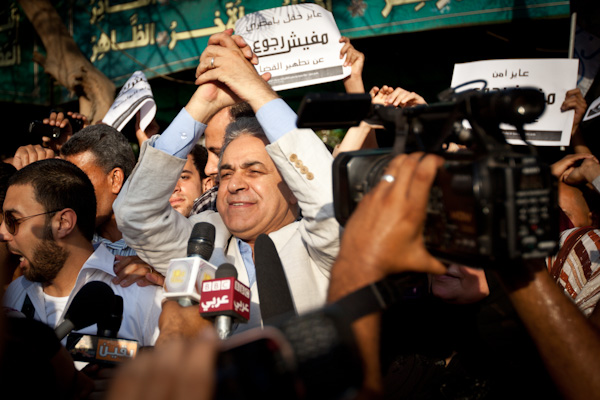 Opposition figures have criticised President Mohamed Morsy's Wednesday speech ahead of mass rallies to be staged on the first anniversary of the president's election.
Hamdeed Sabbahi, a former presidential candidate and a leader of the National Salvation Front (NSF), said the speech was "boring and did not say anything new," meanwhile calling on the president to step down.
In an interview with OnTV satellite channel on Thursday morning, Sabbahi added that initiatives Morsy announced in the address were "valueless and [are] typical of Morsy, who tends to evade the issues brought by the people."
The NSF leader claimed Morsy behaved like a provincial governor, not a president, describing the speech as disappointing for the people of Egypt.
Sabbahi called on the president to resign, saying this is the wish of the people.
"Bow to the people's will," Sabbahi said, directly addressing the president. "'Leave!' as the protesters in Tahrir [Square] chanted after your speech."
Yasser al-Hodeiby, head of the liberal Wafd Party, described the president's speech as "out of the context of time" and inappropriate for a time when the streets look set to witness angry, possibly violent, protests over the weekend.
In an interview on Al-Jazeera Mubasher Misr on Thursday, Hodeiby added: "The speech was neither in the interest of Morsy's supporters nor his opponents."
"We hoped the president would change the cabinet, appoint a new prosecutor general and take decisions to defuse the crisis before 30 June."
Ayman Nour, who leads the Ghad al-Thawra Party, also said in a statement issued on Thursday that the speech was disappointing. The address failed to achieve even the minimum of demands required to assuage the anger of millions of Egyptians, he added.
With the exception of the constitutional amendments committee Morsy said would be established, the speech ignored all demands by opposition groups, the Ghad al-Thawra chief said.
Nour also said he rejected comments made by the president aimed at Egypt's judiciary, which undermined the prestige and independence of the legal establishment.
Nour confirmed he would attend peaceful rallies scheduled for 30 June.