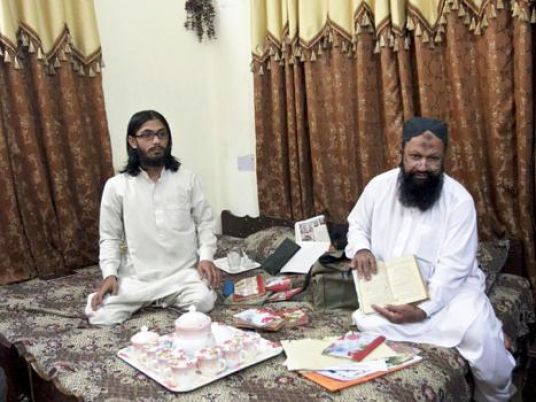 Pakistani police gunned down one of the country's most-feared Sunni militant leaders and 13 followers in a mysterious pre-dawn shootout Wednesday, killing a man believed to behind the slaughter of hundreds of the nation's minority Shiites.
Malik Ishaq, who directed the operations of the Taliban- and Al-Qaeda-linked Lashkar-e-Jhangvi group, was so feared in Pakistan that frightened judges hid their faces from him and even offered the unrepentant killer tea and cookies in court.
Yet Ishaq, believed to be either 55 or 56, operated freely for years in Pakistan as the country's intelligence services helped nurture Sunni militant groups in the 1980s and 1990s to counter a perceived threat from neighboring Shiite power Iran.
Details of Ishaq's killing remain cloudy in Pakistan, where extrajudicial slayings by police remain common — especially in pre-staged ambushes. Ishaq already had been detained by police, arrested two days earlier on suspicion of being involved in the slaying of two Shiites, police officer Bakhtiar Ahmed said.
Early Wednesday, as officers tried to transfer Ishaq from a prison in the city of Multan, gunmen ambushed the police convoy transporting him in an attempt to free the militant, Ahmed said. The ensuing gunbattle killed Ishaq and at least 13 of his associates, including two of his sons and his deputy, Ghulam Rasool, Ahmed said.
In a later statement, police said "14 or 15 unidentified armed terrorists" attacked police vehicles to free Ishaq when officers were returning from an area in Muzaffargarh after seizing weapons, explosives and detonators on information provided by Ishaq and some of his associates.
It also said Ishaq and his associates were killed by those who ambushed the convoy, without elaborating.
Shuja Khanzada, the provincial home minister in Pakistan's eastern Punjab province, where the alleged ambush took place, said the shooting wounded six police officers who "demonstrated extreme bravery."
No other witnesses to the shooting could be immediately located, nor could Ishaq's family members.
"Malik Ishaq was behind many acts of terrorism and he was freed by courts in the past due to lack of evidence," Khanzada told The Associated Press. "Finally, this symbol of terror met his final fate."
Fearing violence in Punjab, long the home of Lashkar-e-Jhangvi, police mounted a heavy security presence around the province and the morgue in Muzaffargarh that took Ishaq's body and those of his associates.
Ishaq helped found Laskhar-e-Jangvi, which allies itself with Al-Qaeda and the Taliban. His group is blamed for scores of attacks on Shiites, regarded as infidels, and on Pakistani and US interests. They've also been accused of carrying out attacks in neighboring Afghanistan. The US State Department designated Ishaq as a terrorist in February 2014, ordering any US assets he held frozen.
Ishaq was arrested in 1997 and accused in more than 200 criminal cases, including the killings of 70 Shiites. But the state could never make the charges stick — in large part because witnesses, judges and prosecutors were too scared to convict.
Frightened judges treated him honorably in court and gave him tea and cookies, said Anis Haider Naqvi, a prosecution witness in two cases against Ishaq who spoke to The Associated Press in 2011. One judge attempted to hide his face with his hands, but Ishaq made clear he knew his identity in a chilling way: He read out the names of his children, and the judge abandoned the trial, Naqvi said at the time.
Despite the lack of convictions, Ishaq remained in prison for 14 years as prosecutors slowly moved from one case to the next. Ishaq proved his usefulness to the army in 2009, when he was flown from jail to negotiate with militants who had stormed part of the military headquarters in Rawalpindi and were holding hostages
A behind-the-scenes effort by the government to co-opt the leaders of militant outfits and bring them into mainstream political life, or at least draw them away from attacking the state, helped Ishaq secure his release in 2011. He had been in and out of police custody since.
Pakistan is a majority Sunni Muslim state, with around 15 percent of the population Shiite. Most Sunnis and Shiites live together peacefully in Pakistan, though tensions have existed for decades and extremists on both sides target each other's leaders.
Pakistan has intensified its campaign against militant groups since December 2014, when a Taliban attack on a military school in the northwestern city of Peshawar killed 150 people, mostly children.
The school attack also prompted the Pakistani government to lift its moratorium on the death penalty. It has executed scores of militants and other men charged in murder cases since then.