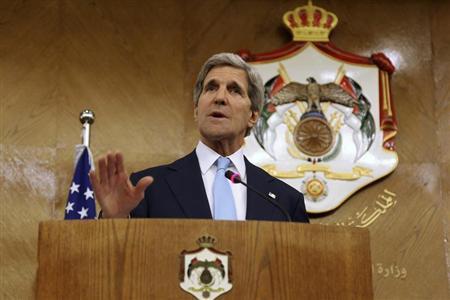 A number of political party leaders commented on the visit of US Secretary of State John Kerry to Cairo saying it was important to the US to learn about the situation in Egypt as it proceeded with the roadmap. They stressed that Kerry's visit was an official recognition of 30 June.
The comments by the politicians reflect the disconnect between communicating US policy and the state narrative of Egyptian nationalists. The political elite in Egypt still remains sour over the 30 June, when the US was unapproving of Egypt's ouster a democratically-elected leader via the military. The US government shortly withdrew its annual aid, concerned over the killing of almost 1,000 mostly unarmed MB protesters in the following days at the hands of the military. Egyptian media pundits quickly interpreted this as proof of the United States' unwavering support of the Muslim Brotherhood, and now argue that the US has learned its lesson by working with Egypt's new government.
Nabil Zaky, the spokesman for the Tagammu Party, said that the visit of US Secretary of State is a recognition of the fait accompli in Egypt, and the popular will of 30 June, in addition to Egypt's success in developing a new Constitution, and elections under sweeping popular support.
Kerry's visit is a recognition that Egypt was right when it faced terrorism, despite the fact that US was the group which created terrorism by invading Iraq and interfering in Syria and Libya for Israel's sake, Zaky argued.
The Egyptian leadership should should announce giving up the US aid, especially in light of bills submitted to the Congress to abolish or decrease aid to Egypt, which represents an insult, said Zaky.
It is important not to succumb to US blackmails and bargains, he added.
Secretary General of the Egyptian Democratic Party Ahmed Fawzy said that the United States know the value of Egypt as a pivotal, and thus the visit comes to identify the magnitude of the problems in the Arab region. The US doubted the government's ability to put the roadmap into effect out and thought the Muslim Brotherhood could overcome 30 June, Fawzy said.
Essam Shiha, legal adviser for the Wafd Party, said the United States is aware of the size of Egypt's regional influence as aware of the power of the state and the cohesion of its institutions, and that Egypt is determined to regain its regional role in the African and Arab worlds.
Washington realized that its confused policies in the region was the cause of the fragmentation of the Arab states, said Shiha.
Egypt is seeking to balance policies, but announced that its interests are linked to the Arab world. So if the US opposes it, Egypt will announce its opposition to the US policy.
America understands that Egypt after two revolutions is no longer able to walk in its orbit, Shiha argued, and has developed her own policies.
Edited translation from Al-Masry Al-Youm