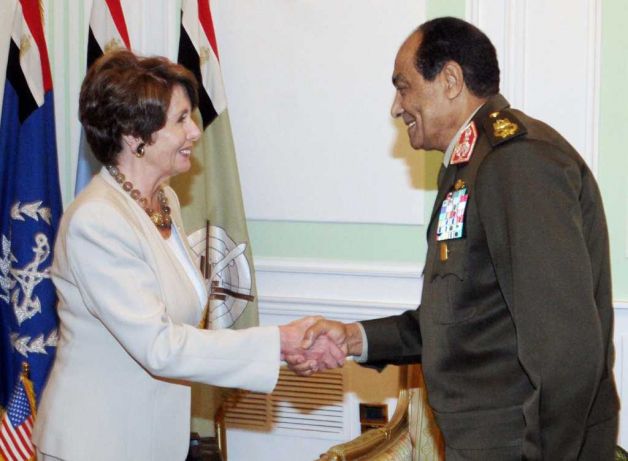 US House of Representatives Minority Leader Nancy Pelosi says US-Egypt ties remain strong after a spat over democracy groups led to the worst tension in relations between the longtime allies in years.
Pelosi met Field Marshal Hussein Tantawi in Cairo on Thursday, after Egypt defused a crisis with Washington by allowing US democracy activists on trial to leave the country.
Pelosi, a Democrat and former House speaker, is leading a delegation that was also scheduled to meet the Islamist speaker of Parliament, Saad al-Katatny.
Relations between Egypt and the US plunged when Egypt charged 16 Americans working for democracy-building groups with illegal activity. American lawmakers threatened to cut more than $1.5 billion in aid to Egypt.
After pressure from Washington, Egypt allowed 13 foreigners from the groups, including six Americans, to leave the country on 1 March, after the trial judges recused themselves and a travel ban was lifted.
One American, Robert Becker, chose to stay in Egypt to face the charges.
Pelosi said the case will not be a barrier in relations between the two countries.
The lifting of the travel ban prompted several political parties, including the Freedom and Justice Party, the political arm of the Muslim Brotherhood that dominates both houses of Parliament, to call for the removal of the cabinet led by Prime Minister Kamal al-Ganzouri.