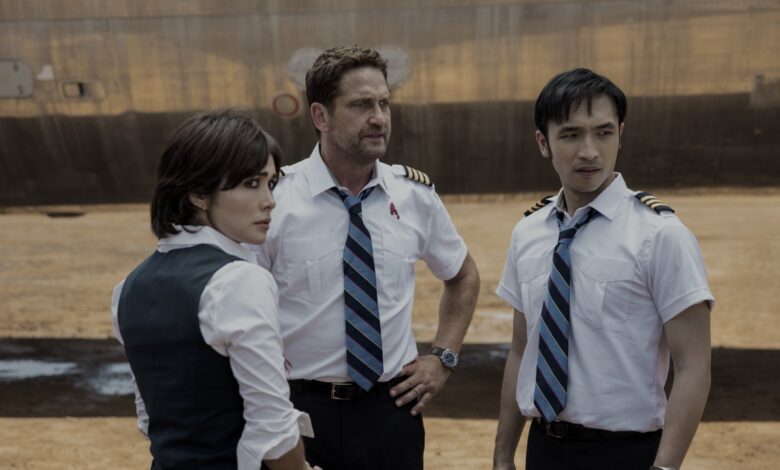 The Plane movie is about to achieve LE3 million in its second week of showing on Egyptian screens.
It has already achieved US$38,319,170 in total revenues around the world.
Scottish star Gerard Butler said this about his new movie, "I've been to many screenings now and I've seen how the audience responds. It really has it all: It has disaster,action and survival elements".
"It's very funny, and it's very moving, and it has complex characters that are human, that make mistakes. And that's somebody that's very relatable for the audience. So it just felt like something where we could really take the audience on a joy ride and have them on the edge of their seats. And that's the response we've been getting."
"Theater audiences are already enjoying the trailer for Plane, especially thanks to the way it ultimately reveals the film's title — one which stands out for its simplicity.
But it could have been a little less simple," he added.
The beginning of filming had the same name, but when we started filming there were some discussions about changing the title, and I did not think that it should be changed, he continued.
On the character of pilot Brodie Torrance, Gerard plays, he said, Brodie absolutely does not compromise the safety of his plane, his crew, and his passengers, and this shows clearly when one of the travelers began to drink excessively and raise his voice in speech during the flight.
Brodie has the experience to deal with the situation in any way necessary.
He knows his potential, even when he does not literally follow the airline policies, and he has many skills, including spotting a small patch of land to save his passengers from a downed plane, and protecting them from the gangs on that patch.
"Recently I've moved away from maybe the Mike Banning-style characters, the ones that are experts," Butler says, describing his role in the Has Fallen films. "I'm playing more everyman people, ordinary people in extraordinary circumstances. Because I love the fact that that's something that an audience can really identify with, unlike perhaps superhero movies. Which are still great fun, but you know, you're not Batman. Whereas you could be Louis Gaspare. You could be Captain Brodie Torrance," he added.
The film was directed by Jean-François Richete and written by J.P. Davis, starring Gerard Butler, Mike Colter, Yoson An, Daniella Pineda, Paul Ben-Victor, Joey Slotnick.