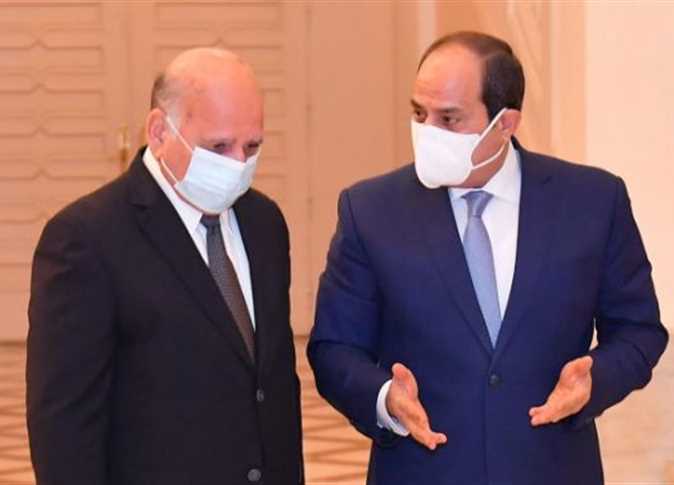 Egyptian President Abdel Fattah al-Sisi on Monday received Iraq's Minister of Foreign Affairs, Fouad Mohammad Hussein, and the Iraqi ambassador to Egypt, Ahmed Nayef al-Delaimy, to discuss the historical ties and future relations between Egypt and Iraq.
Iraq confirmed its appreciation of Egypt's efforts to support Iraqi affairs, according to the Iraqi Ministry of Presidency's spokesperson, Bassam Rady.
Rady added that Iraq's Prime Minster, Mostafa al-Kazmy, sent a message to President Sisi asking to strengthen cooperation with Egypt, either at the bilateral level or between the two countries and Jordan.
Iraq's PM believes Iraq can greatly benefit from Egypt's experience in development projects, especially in the energy and infrastructure sectors.
During a press conference, Egypt's Foreign Minister Sameh Shoukry stated that Egypt is aware of challenges facing Iraq, and is ready to support the Iraqi government in maintaining the unity of its territories.
He went on to say that Egypt does not wish to intervene in Iraqi domestic affairs.
According to Shoukry, both countries reiterated their commitment to maintain close relations and cooperating with each other during the meeting.
Finally, he added that the Egyptian-Iraqi relations have always sought to strengthen Arab solidarity and defend common interests.
Edited translation from Al-Masry Al-Youm