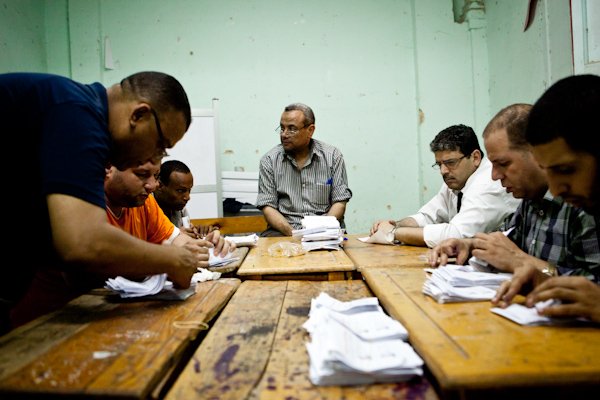 The final results of the presidential runoff will be announced on Sunday, said Presidential Elections Commission (PEC) Secretary General Hatem Bagato.
"There are nationwide vote-counting errors and after the appeals are considered we will recount the votes, and then the final result will be announced on Sunday," Bagato said in a phone call to media personality Amr Adib on the Orbit satellite TV station.
The commission had initially said it would announce on Thursday the final results of the election held Saturday and Sunday, but delayed the decision to consider hundreds of complaints.
Bagato said the campaigns of Muslim Brotherhood candidate Mohamed Morsy and former Prime Minister Ahmed Shafiq had filed 220 and 190 appeals, respectively. He said appeals made by both candidates concern specific geographic areas and governorates, especially those in which there is a large difference in the number of votes in favor of the other candidate.
Bagato said the PEC "does not accept threats from anyone," and that it "rules according to the law."
The postponement raised questions by the Muslim Brotherhood and its political arm the Freedom and Justice Party, which warned against any attempts to falsify the will of the people, saying SCAF would have to face the public.
Both electoral campaigns are claiming victory for their candidates, with supporters in each camp celebrating their supposed win.
Edited translation from Al-Masry Al-Youm