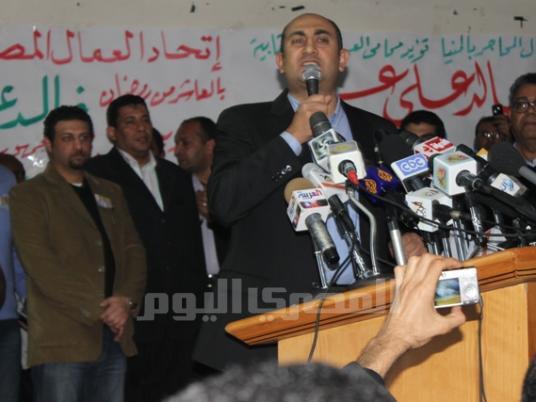 Presidential hopeful Khaled Ali has called for the need to reform the management of the public sector, while promising to also support the private sector if he wins the elections.
In a campaign rally at Mamar Square in Ismailia, Ali said "Public sector companies achieve [huge] profits, such as the Holding Company for Chemicals, which made LE1.9 billion out of a total profit of LE3.9 billion made by public sector companies."
"The problem in the public sector is mismanagement," he said.
Ali pledged to grant 500,000 temporary state employees permanent contracts so they can "achieve stability in their lives," in addition to "opening new horizons for investment in various fields."
Ali said he has an ambitious platform to achieve Egyptians' dreams and to distribute wealth fairly. It includes distributing plots of land to young people.
He criticized the distribution of land to investors under Hosni Mubarak. He said that the usufruct land ownership system should be used, as in China.
Ali said he will look to the Brazilian and Chilean models to overcome economic obstacles and achieve a genuine economic breakthrough.
He said the "IMF tries to impose conditions on borrowing countries, and the former regime did not try to [protect] the interests of Egypt by political maneuvering with the fund. [The former regime] accepted the conditions without any discussion or objection."
He demanded that control authorities that have been operating since Mubarak's time be purged, starting from the public prosecutor.
He called for imposing a progressive tax on income to "achieve social justice", pointing out that Scandinavian countries impose a 65 percent progressive tax rate, and 2 percent on the companies listed on the stock exchange.
Translated from Al-Masry Al-Youm