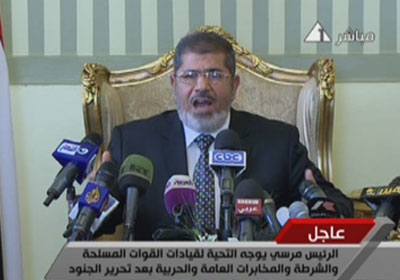 Hassan Samir, an investigating judge delegated by the Cairo Appeals Court, has ordered the arrest of former President Mohamed Morsy for 15 days pending investigations into allegations of espionage and links with Hamas.
The indictment said Morsy stands accused of spying for Hamas in the Gaza Strip, attacking police establishments, policemen and prisons as well as involvement in setting Wadi al-Natroun prison on fire.
The former president is also accused of enabling prisoners to escape to help him flee imprisonment, destroying prison records, killing prisoners and abducting policemen.
The charges relate to the January 2011 Wadi al-Natroun prison break, which occurred at the height of Egypt's 25 January revolution.
Morsy was being held at Wadi al-Natroun on charges of espionage by the former regime.
Samir instructed prosecutors to question eyewitnesses to the events.
The judge also added that media channels should respect an earlier gagging order on reporting on the case, in attempts to maintain secrecy and protect national security as investigations continue.
Edited translation from MENA