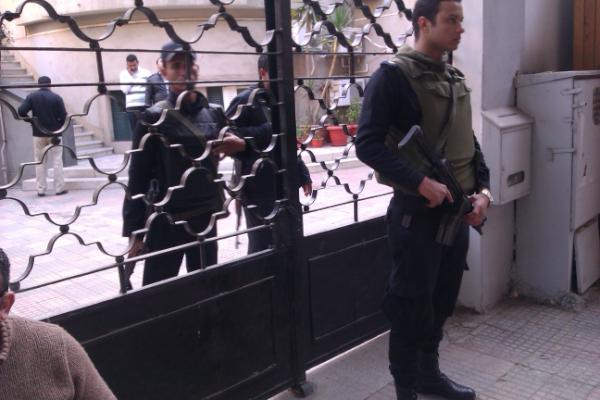 District attorneys backed by gun-toting Central Security Forces raided the offices of several non-governmental organizations in Egypt Thursday afternoon.
The government is investigating 17 Egyptian and international NGOs for receiving foreign funding illegally, MENA, the state-run news agency reported. Only five organizations have been raided so far.
Law 84/2002 requires NGOs to get approval from the Ministry of Social Solidarity before they can receive foreign funds.
"The storming of NGO offices is an unprecedented move in the recent history of Egyptian NGOs," Ziad Abdel Tawab, the deputy director of the Cairo Institute for Human Rights Studies, said in a statement.
The offices of two Egyptian NGOs, the Arab Center for Independence of Justice and Legal Professions and the Budgetary and Human Rights Observatory, were raided.At around the same time CSF and district attorneys stormed the offices of the National Democratic Institute (NDI), International Republican Institute and Freedom House.
An Egypt Independent reporter outside of the NDI office in Dokki saw at least six CSF soldiers carrying files, cardboard boxes full of papers and posters out of the office.
An NDI employee who requested not to be named, said that the CSF and prosecutors seized all the laptops, including the employees' personal computers, in the office.
The cabinet announced in September that a Justice Ministry report had identified about 30 NGOs that have been illegally receiving foreign funding and are not registered with the Ministry of Social Solidarity, which oversees such organizations.
Minister of Justice Mohamed Abdel Aziz al-Guindi said earlier that these organizations face charges of treason for allegedly sending sensitive information to foreign parties.
"We have been anticipating this for a long time, as a result of the stands that these organizations take against the military," Negad El Borai, a prominent human rights lawyer, told Egypt Independent.
El Borai says the crackdown will have a negative impact on the activity of human rights organizations in Egypt, but he is "not sure how bad yet."
The ministry has the authority to block NGO funding for several reasons, including if it judges that the purpose of the funding falls outside the organization's stated mandate. Employees of the organizations face imprisonment and a fine if convicted.
Lawyer Ahmed Seif al-Islam, the director of the Hisham Mubarak Center for Law, said that the military have been waging a fierce campaign against civil society organizations for many months to "eliminate free speech from the Egyptian society."
"We have to make sure that the issue of inspection was based on a written permission from the general prosecutor. If the inspection was not based on a written permission from the general prosecutor then the Ministry of the Interior has violated law and should be held accountable," said Seif al-Islam.