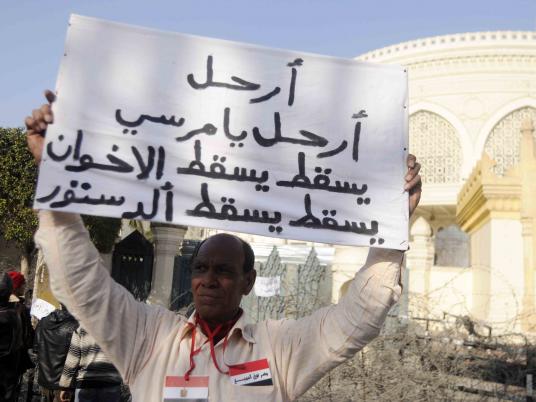 Dozens of protesters gathered in front of the Ettehadiya Presidential Palace late Friday morning in preparation for the mass demonstration called "Trial of the Regime."
Demonstrators set up a stage in front of the Heliopolis Club, facing Gate 4 of the palace, and installed speakers to play patriotic songs.
Security forces were largely absent from the scene, but razor wire was set up in front of the palace's gates. Gate 5, where President Mohamed Morsy enters and exits, was guarded by four Central Security Forces armored vehicles.
The protest calls for the dissolution of the Muslim Brotherhood and for the trial of its leaders. It also calls for the firing of the public prosecutor, and the immediate release of all political detainees from prison.
Participating political parties and groups in Friday's protest include the Free Front for Peaceful Change, the Revolutionary Forces Coalition, the Popular Movement for Azhar's Independence, the Arab Revolution Youth Movement, the National Center for Popular Committees, the Dostour Party Youth, the Revolution Youth Union, the National Unity Youth Movement, the Revolution Youth Council, Emsek Foloul, the Alexandria Revolutionaries Union, the 25 January Youth Movement, the National Front for Justice and Freedom, the National Salvation Front Party Youth, the April 6 Youth Movement and others.
Edited translation from Al-Masry Al-Youm