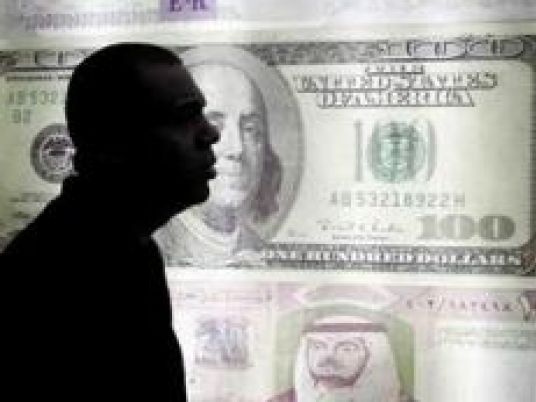 Business is grinding to a near-halt in Egypt as companies struggle to keep pace with a rapid slide in the black market value of the pound. Factories are halting production, shops are running low on stocks and a sense of panic is spreading.
Bassem Hussein, whose company imports, processes and packages coffee and spices, stopped buying two weeks ago as the depreciation of the Egyptian currency gathered pace. His goods are still on sale at supermarkets but no more stock is on the way for now.
"No one knows what is happening. We stopped buying and selling two weeks ago. We're only doing retail," said Hussein, a manager at family-run Interfood. "It's not logical and it's not just us, it's all merchants."
The Egyptian pound has been falling on the black market since the 2011 revolution drove away tourists and foreign investors, vital sources of hard currency in an economy that relies on imports of everything from food to luxury cars.
But firms say a dramatic slide in the last few weeks has left them paralysed, unable to plan from one day to the next.
Black market traders were buying dollars at 17.5-17.85 pounds on Monday and selling them to importers at 18-18.2, representing a two-pound slide in a single week and five-pound slide on the month.
The pound is now worth half as much on the black market as it is in the banks, where the official rate remains fixed at 8.8 but where dollar supplies are strictly rationed.
Foreign reserves have dwindled from $36 billion before 2011 to about $19.6 billion in September, despite Egypt receiving tens of billions of dollars in aid from Gulf Arab allies.
Capital controls introduced in early 2015 to prioritise essentials such as wheat have forced importers on to the black market, where the rate has depreciated fast.
Companies have complained for nearly two years, with the dollar crisis already squeezing smaller firms out of business.
But the crisis entered new territory last week as two of Egypt's largest listed manufacturers raised the alarm.
Cigarette-maker Eastern Company warned that its raw materials stocks had halved and that it may have to halt production and sales if dollar shortages persist.
Juhayna, a drinks maker, said it would defer new projects and seek to source raw materials locally.
As part of efforts to slash the trade deficit it blames for distortions in the currency market, the government has raised customs duties on luxury goods and set stricter import rules.
Trade and Industry Minister Tarek Kabil has said local production rose 20 percent this year, to substitute for imports.
But manufacturers say they rely on imported components and parts they buy with dollars obtained at black market rates.
"We used to feel it weekly, now the impact is daily. It's not just wood, it's all our materials, 50 percent up on a month ago," said Ibrahim Hashem, who runs a furniture factory in Alexandria and buys imported wood priced in dollars.
"There is a limit … It may reach the stage where I do my calculations and find that no one will buy furniture at the price I would need to charge … It will reach the stage where no one will make or buy or sell anything."
OUT OF CONTROL
With the budget deficit at 12 percent in the 2015-16 fiscal year and currency markets facing severe distortions, Egypt reached a preliminary deal with the IMF in August for a $12 billion three-year loan to support an economic reform programme.
As part of those reforms, Egypt is widely expected to ditch its currency peg for a more flexible exchange rate mechanism.
Central Bank Governor Tarek Amer has said he would consider floating the pound once reserves hit $25 billion, but that target looks ambitious to some economists who say Egypt is burning through dollars as fast as it gets them.
Saudi Arabia, the UAE and the World Bank have poured about $3 billion into Egypt's coffers in recent months, but rising prices and periodic shortages of state-subsidised foods have forced the government to increase costly imports.
A dispute with its erstwhile financial backer, Saudi Arabia, saw a deal to supply Egypt with refined oil products suspended this month, adding $500 million a month to government spending.
Public uproar over a sugar shortage prompted the central bank to allocate $1.8 billion to build a six-month food reserve.
The pound was at 12 per dollar when the IMF deal was agreed. Its decline on the black market presents a conundrum.
If the central bank makes only small adjustments, economists say, downward pressure will mount again. But if it cuts the official value of the pound in half, the political and social impact could be explosive. For now, it is doing nothing.
"I don't know if they have a Plan B or they are panicking (too much) to execute… But I know one thing, everything is closing down in terms of market functioning whether official or unofficial," said Hany Genena, head of research at Beltone Financial. "They have to float immediately."
Government officials have repeatedly assured Egyptians that the state and army would step in to ensure that basic goods are in ample supply and that prices would be kept in check.
But an increasingly statist approach to economic problems is raising questions over whether the government has the political will to forge ahead with painful reforms.
Merchants say the dollar crisis is a key factor in periodic shortages in rice, oil and sugar. But the government has blamed hoarding and has raided warehouses and factories, confiscating inventories. Some companies have ceased to trade in affected commodities as a result, potentially exacerbating the problem.
The government is also considering setting the profit margins companies can charge on certain goods to prevent profiteering, a move some businesspeople see as dangerous interference in the market.
Even the central bank's move to close exchange bureaus dealing pounds beyond the official range this year has increased risks and made it more difficult to obtain hard currency, adding a premium to the dollar, businesspeople and economists said.
"Closing the exchange bureaus was a mistake. Now we have to buy dollars on the street for 14, then 15, then 16, then who knows, and there is a shortage of spare parts because of this," said Hamada Hafez, a dealer in vehicle parts.
"We buy from China now because the exchange rate is better and it's cheaper but the quality is lower. So now the products on the market are more expensive and lower quality. That can't be right."