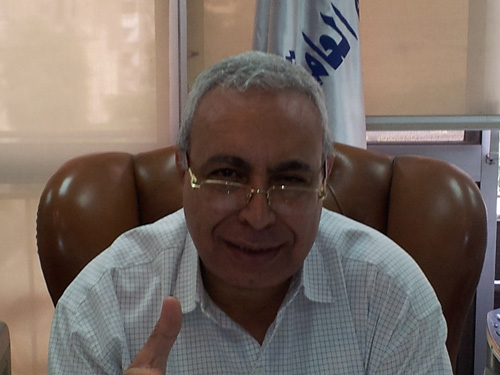 The General Agency for Culture Palaces announced it would start a series of public meetings and seminars in September to aquaint the public with the country's draft constitution, which is slated to be put to referendum later this year. The agency has conducted some targeted information sessions but has since put off mass seminars until it obtains a complete draft of the document.
Poet Saad Abdul Rahman, head of the General Authority for Culture Palaces, discussed the authority's vision as well as plans to better utilize the palaces dotting Egyptian cities and villages.
Egypt Independent: Tell us about the purpose of the public meetings and why they were delayed.
Saad Abdul Rahman: Participating in current events and coping with social and cultural variables in Egypt are among the main tasks the culture palaces must take over after the revolution. This is not our first initiative as we started these types of activities a long time ago. But I do think that this time we have a bigger mission.
After the Constituent Assembly was founded, we collected all of Egypt's constitutions starting from 1882 until the present in one book, and distributed more than 15,000 free copies to political parties, unions and members of Parliament. We also sold around another 15,000 copies to the public for LE1 only.
Then we planned with the State Information Service and youth centers to organize a series of public meetings and seminars in all governorates to explain to people the articles of the new constitution and their rights and duties according to it. With the help of the Constituent Assembly's proposals, dialogue and communications committee, we have already started some seminars to get people's opinions about sections written thus far. However, the seminars haven't been very inclusive as they target employees of specific institutions. And that's why we decided to wait until we have a complete draft of the constitution to start the public awareness campaign on a scale that includes the different segments of Egyptian society. These will be hosted by legal experts.
EI: And how does this fall in the authority' responsibilities? What services and activities do cultural palaces generally provide?
Abdul Rahman: Most people don't know that the culture palaces authority is the oldest [state] cultural institution in Egypt, established even before the Culture Ministry. Its history goes back to 1905 when Mohammed Farid established it as the "People's School." It was renewed in 1945 and renamed the "Popular University." As it stands today, the authority includes many sectors such as the National Cinema Center, and similar ones serving the fields of theater, literature, folk arts and music. It also regularly holds political, cultural and religious seminars, as well as poetry evenings and competitions.
Unlike other cultural institutions, we do not target the elite. We focus on the poor and working classes, simple farmers and workers. That's why all our activities and publications are presented for free. Also, the culture palaces are spread everywhere across the country, which isn't the case for most cultural institutions that are based in Cairo.
In my opinion, the great role the palaces played over the years in spreading culture and awareness has contributed to grooming the young generation which sparked the revolution.
EI: Has the role of the culture palaces changed over the past few decades?
Abdul Rahman: Of course, there is a big difference. Now, everyone is free to express himself. Before the revolution, the regime tried to use cultural institutions, especially culture palaces, to support Mubarak and his government. Opponents from political and religious groups weren't even allowed to participate in events held at the palaces. To hold a political seminar or conference, you had to get permission from the State Security Investigations Service. They decided who the palaces could host.
Cultural institutions mainly promoted Mubarak and the NDP. For example, in 2007 after the government announced the notorious constitutional amendments that guaranteed Gamal Mubarak's succession, cultural institutions were asked to hold public meetings to pretend as if they were taking people's opinions about the amendments. Of course, specific guests were hosted to praise these changes and affect public opinion.
Still, we cannot forget how the culture palaces challenged the government's orders and insisted on hosting objective law experts who discussed the topic without bias.
EI: What are the problems you currently face?
Abdul Rahman: Well, the main problem that hinders the authority from playing its role in spreading culture and knowledge is limited resources. The current government considers it a legacy of the Mubarak regime, which aimed at dwarfing and marginalizing the role of culture palaces to oblige them to serve its interests. The Hurghada Culture Palace, for example, has been under construction and maintenance for more than 20 years. Some people accuse us of carelessness but there is nothing we can do.
Another problem is the randomness in planning and implementing programs; the former regime focused on quantitative rather than qualitative expansions. We have 560 culture palaces across Egypt. Unfortunately most of them are just small rooms or apartments in slum areas, without facilities and with more than 50 employees.
None of those employees go to work and at the same time they protest every now and then asking for higher salaries and incentives. We are not able to watch over 16,000 employees working in those palaces to know who actually deserves payment.
I do think, however, that they are oppressed.
EI: 'Oppressed' in what way?
Abdul Rahman: There is no fairness in Egypt in distributing budgets between different governmental entities. Some are given budgets that exceed their needs, while others are allocated sums that do not meet their basic requirements.
What is strange is that the government doesn't see culture as a necessary thing. It gives crumbs to poor culture palace employees, who are exposed to much danger in remote villages and governorates, and yet pays thousands of pounds to those working in petrol, electricity, police, army and banking sectors. All these sufferings demotivate employees. I sent many complaints to the Finance Ministry, but as usual no one listens to us.
EI: Can you give us details about the joint agreement between the authority and the Culture Development Fund for establishing book outlets in remote governorates?
Abdul Rahman: This isn't the first cooperation between us. We had joint plans to open book outlets in universities and remote governorates a long time ago. We have already opened three outlets in Al-Azhar, Assiut and Monufiya universities. But, now the Culture Development Fund is less able to support projects as most of its funding came from the Supreme Council of Antiquities, which became a separate ministry.
Also, I have to highlight a serious issue regarding the authority's cultural books. Because all of our books are subsidized, we are subjected to piracy. Book traders collect our publications from the market at very low prices and keep them for some months until demand increases. They then resell them at very high prices. This prevents poor readers from buying such books although they were made for them in the first place.
EI: What are the activities of the literature clubs and how can they promote literature?
Abdul Rahman: Most people don't even know what literature clubs mean. They were established mainly to support budding writers [and] provide them with knowledge about different cultural, artistic, scientific, political and historical aspects of life, and help them publish their first novel or book. The clubs are funded by the authority; and although we allocate them a big budget, writers avoid them. Those clubs are dominated now by groups of employees who harness the available resources to serve their own interests and distribute the budget among them as rewards and compliments.
Unfortunately, the books they publish don't even deserve the price of the ink used on the paper. The roots of this corruption belongs to Mubarak's regime; it still extends and encroaches until now, which may lead to the destruction of the country's culture and literature.