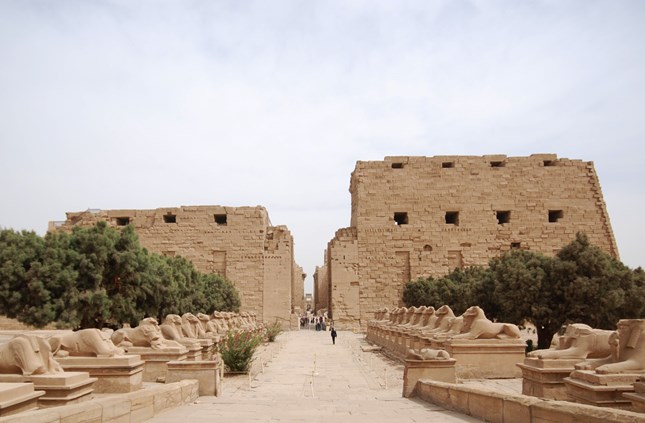 Workers at the Karnak Temple Complex have continued to renovate the 29 ram statues present at the temple's first edifice, following the transfer of four statues to Cairo's Tahrir Square, correcting the damage endured by the statues since the 1970s, the Secretary-General of the Supreme Council of Antiquities Mostafa Waziry announced.
Poor restoration work in the 1970s while establishing a Sound and Light project at the temple complex damaged several of the statues.
Waziry explained that at that time, restoration involved using a layer of backfill covered in cement mortar, bricks and stones, which allowed groundwater to leak into the statues and turn some parts of them into powder.
The current renovations will be carried out in two phases — the first will see the removal of the sandstone statues so that a trench two-meter wide and one-and-a-half meters deep can be dug and filled with sand and construction aggregate, thus preventing groundwater leakage.
Once complete, a modern concrete base will then be added to the statues.
The second phase involves studying the inscriptions, writings, and engraving on the statue bases.
Waziry said that this renovation project will finish by June 2021.
Edited translation from Al-Masry Al-Youm