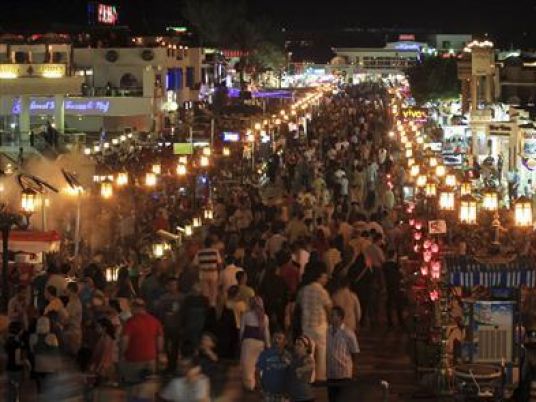 A Russian security delegation arrived in Hurghada at dawn on Tuesday to inspect new security measures introduced at Hurghada touristic areas prior to deciding on the return of Russian flights to Egypt.
The delegation includes one of Russian President Vladimir Putin's assistants.
Officials from the Tourism Investment Association in Hurghada revealed that the Russian delegation's visit will extend over Tuesday and Wednesday. The delegation will leave on Wednesday evening from Hurghada Airport to Sharm El-Sheikh Airport.
At the end of the visit, the Russian delegates will meet with the Egyptian ministers of interior and tourism and the governors of South Sinai and the Red Sea.
The tourism sector in Egypt took a bad hit after the crash of the Russian MetroJet flight near Sharm El-Sheikh, which killed all 224 people on board. Several countries followed suit in suspending flights to the Red Sea airports, adding to the vast numbers of holidaymakers who had already chosen to stay away from Egypt since a popular revolution in 2011.
The number of tourists visiting Egypt fell by 47.2 percent in March 2016 compared to the same month last year, due to the decline in the number of Russian tourists, who make up the majority of tourists to Sharm el-Sheikh, by 99.2 percent, the Central Agency for Public Mobilisation and Statistics (CAPMAS) said.
In a statement released by the credit rating company Moody's in July, it was announced that the Egyptian tourism sector profits in the first quarter of this year amounted to US$551m, the lowest recorded profits for the sector since March 1998.
The Civil Aviation Ministry announced in July agreements reached with Russia in order for the flow of tourism from Russia to Egypt's touristic resorts to be resumed.
In a three-day visit to Russia in July, Egyptian Minister of Aviation Sherif Fathy met with aviation and tourism officials to discuss progress made in the investigations into the downing of a Russian plane over Sinai.
The visit was an opportunity to negotiate the conditions for resuming Russian flights to Egypt's resorts, which have felt the effects of the halt in trade from a top tourist market in recent months.
Russia requested the designation of special arrival and departure halls with their own exits for flights to and from Russian, where safety procedures that meet scrupulous standards would be enforced.
The ministry has granted permission for experts from Russia to visit Egyptian airports to carry out inspections of safety standards.