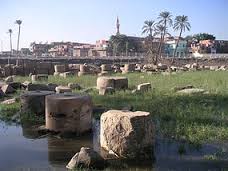 A Russian archaeological mission working in Mit Rahina discovered part of the white wall of Memphis city, the first capital of ancient Egypt, in addition to a number of ovens for manufacturing pottery and bronze tools.
Minister of Antiquities Mamdouh el-Damati described the discovery as very important.
The mission will continue excavation works at the site in an effort to find the remaining part of the wall, head of the mission said.
Memphis was the ancient capital of Aneb-Hetch, the first name of Lower Egypt. Its ruins are located near the town of Mit Rahina, 20km south of Cairo.