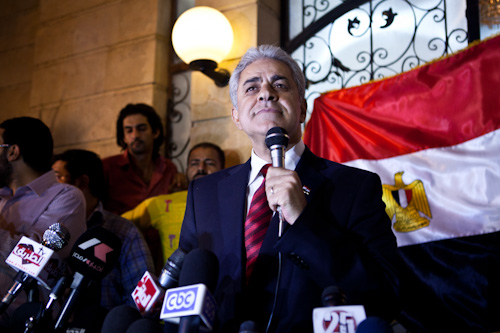 Former presidential hopeful Hamdeen Sabbahi said that he is holding consultations over the runoff for the presidential election, scheduled for 16 and 17 May.
State-run MENA news service quoted Sabbahi on Friday as saying that he is in ongoing talks with different national forces aiming to reach a unified stance over the runoffs. Sabbahi said that one suggestion that has been discussed is boycotting the vote.
Sabbahi came in third in the first round of the presidential election with 4,820,273 votes, or 21.5% of voters.
Sabbahi that he would not support either of the candidates in the runoff: the Muslim Brotherhood's Mohamed Morsy or Ahmed Shafiq, Mubarak's last prime minister.
Sabbahi said that he cannot impose either of these choices upon Egyptians: being dominated by a single political movement (the Brotherhood) or the reproduction of the former regime.
He stressed that he would not accept any official position in Morsy's administration, such as vice president or prime minister.
Sabbahi called on all civilians, youth, and revolutionaries to participate in establishing a popular revolutionary force that is broad and organized to meet the aspirations of all Egyptians. He expressed hope that the April 6 Youth Movement would be one of the founders of this movement.
The April 6 Movement on Wednesday called on public figures and presidential hopefuls who did not make it to the runoff to join a coalition against the counterrevolution to prevent the Mubarak regime from being reproduced.
Abdel Halim Qandeel, a prominent political columnist, on Thursday called on Sabbahi to support Morsy against Shafiq.
Edited translation from MENA