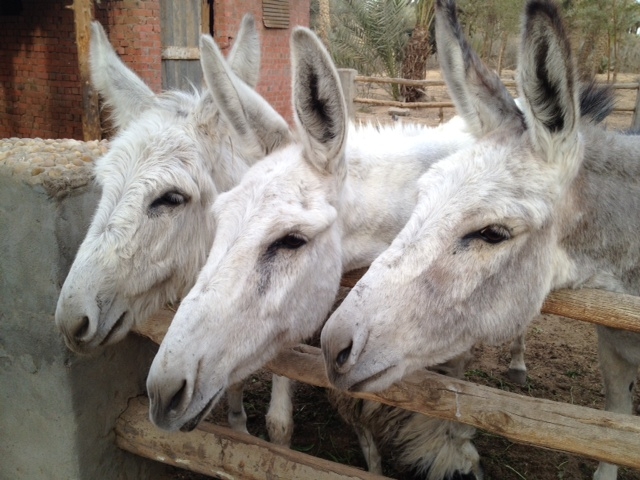 Standing on a sandy farm with three eager donkeys nuzzling you for carrots, it's hard to forget that less than a kilometer away are less fortunate animals, many underfed and overworked.
But here at this Saqqara sanctuary, donkeys — some blind, crippled or rehabilitated from near death — are no longer beasts of burden, but beloved early retirees.
"For some it's as if they've lived here all their lives. It's somewhere they know they can be safe," says Amina Abaza, who has converted her family farm into a home for the donkeys and says she has spent a good deal of her personal savings to do so.
Abaza founded the nonprofit Society for the Protection of Animal Rights in Egypt (SPARE) in 2001, and runs the donkey sanctuary as well as a shelter for cats and dogs.
With the farm funded by private donations, only a handful of lucky donkeys can find refuge here at any given time. The group also gives free treatment to an estimated 500 donkeys and horses and 200 sheep and goats each month whose owners mostly hear about the organization and its vets through word of mouth.
"When I see an animal that is starving, beaten and humiliated then I buy it, or if I can, I confiscate it," Abaza, 66, says. "I just tell him [the owner] 'I am going to take this animal from you and I won't give it back to you.'"
Most donkeys that the shelter rescues are in such bad condition that they can no longer work, and the owner is happy to get rid of them for a small fee of around LE70, she says.
An animal lover since childhood, the traumatic shooting of a beloved stray dog set Abaza on her philanthropic path early on.
As a teenager, she visited the Brooke Hospital for equines and says she has a great respect and love for horses and donkeys, though she says her first and only foray into horseback riding ended at age 14.
"It kept me on its back for about three seconds, and I remember thinking, 'Poor Amina, you're only 14 and you're going to die.'"
The incident didn't deter her from her personal mission, although there have been a few kinks to work out over the organization's 11 years.
"The most donkeys we had at once were 19, and they destroyed the farm completely and became dangerous. When they came running through the farm together, they could kill someone," Abaza says.
Keeping the sanctuary from becoming a breeding center was also a problem, as the male donkeys cannot be castrated immediately after they arrive because they are already too traumatized or sick. The four donkeys currently at the farm are much more manageable, and Abaza now sets the limit at eight.
The society also does educational outreach within the community to encourage respect for animals, distributing booklets and literature about their proper treatment according to Islam.
Kyrollos Ezat Ibrahim has been working at the animal shelter for about a year since he graduated from veterinary school.
"We need support because unfortunately so few people adopt animals in Egypt," Ibrahim said, adding that animal rights are not seen as a priority here.
"Unfortunately, people think animal rights are something against human rights, but we see that both are one."
The SPARE shelter off of Saqqara Road is currently home to about 43 dogs, including those being boarded, and about 20 cats. It arranges both international and local adoptions through its website and friends who help establish connections abroad.
All of the animals are spayed or neutered when they arrive at the shelter, and veterinarians also provide these services for pets, operating on roughly 150 animals per month to keep more unwanted offspring from the streets.
Abaza says that through media appearances and generous friends, the society is gaining recognition in Egypt, but she's still shy about soliciting donations to cover the estimated LE240,000 in annual costs. Instead, she prefers to rely on offers from friends or donations through the website.
"It's not an investment, it is a love and a passion," says Abaza, who guesses that she and her husband cover three-quarters of the operational costs.
"I don't ask for donations because I feel they are my kids and I feel as if I'm begging for them, but of course when someone offers we are happy they can help."