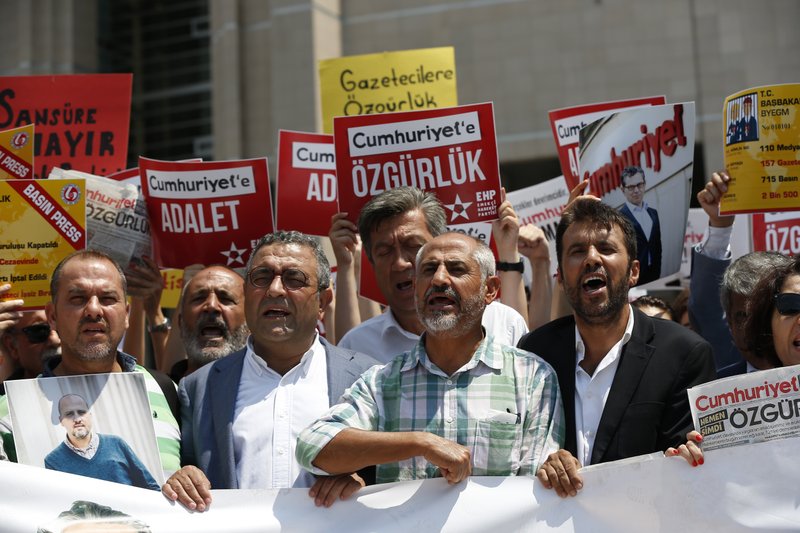 The Weinstein Co. filed for bankruptcy protection on Monday with a buyout offer in hand from a private equity firm, the latest twist in its efforts to survive the sexual misconduct scandal that brought down co-founder Harvey Weinstein, shook Hollywood and triggered a movement that spread out to convulse other industries.
The company also announced it was releasing any victims of or witnesses to Weinstein's alleged misconduct from non-disclosure agreements preventing them from speaking out. That step had long been sought by New York Attorney General Eric Schneiderman, who filed a lawsuit against the company last month on behalf of its employees.
"Since October, it has been reported that Harvey Weinstein used non-disclosure agreements as a secret weapon to silence his accusers. Effective immediately, those 'agreements' end," the company said in a statement. "No one should be afraid to speak out or coerced to stay quiet."
In a statement, Schneiderman praised the decision as "a watershed moment for efforts to address the corrosive effects of sexual misconduct in the workplace."
The movie and TV studio becomes the first high-profile company to be forced into bankruptcy in the nationwide outcry over workplace sexual misconduct. Dozens of prominent men in entertainment, media, finance, politics and other realms have seen their careers derailed, but no other company has seen its very survival as tightly intertwined with the fate of one man as the Weinstein Co.
Some 80 women, including prominent actresses, have accused Harvey Weinstein of misconduct ranging from rape to harassment. Weinstein, who was fired as his company's CEO in October, has denied any allegations of non-consensual sex.
The Weinstein Co. said it has entered into a "stalking horse" agreement with an affiliate of Dallas-based Lantern Capital Partners, meaning the equity firm has agreed to buy the company, subject to approval by the US Bankruptcy Court in Delaware.
Lantern was among a group of investors that had been in talks for months to buy the company outside of bankruptcy. That deal was complicated when Schneiderman filed his lawsuit, citing concerns that the sale would benefit executives accused of enabling Weinstein's alleged misconduct and provide insufficient guarantees of compensation for his accusers. Talks to revive the sale finally fell apart two weeks ago when the group of buyers said they had discovered undisclosed liabilities.
The Weinstein Co. said it chose Lantern as a potential buyer because the firm was committed to keeping on the studio's employees as a going concern.
"While we had hoped to reach a sale out of court, the Board is pleased to have a plan for maximizing the value of its assets, preserving as many jobs as possible and pursuing justice for any victims," said Bob Weinstein, who co-founded the company with his brother Harvey in 2005 and remains chairman of the board of directors.
Lantern co-founders Andy Mitchell and Milos Brajovic said they were committed to "following through on our promise to reposition the business as a pre-eminent content provider, while cultivating a positive presence in the industry."
Under bankruptcy protection, civil lawsuits filed by Weinstein's accusers will be halted and no new legal claims can be brought against the company. Secured creditors will get priority for payment over the women suing the company.
Schneiderman's lawsuit will not be halted by the bankruptcy filing because it was filed by a law enforcement agency. Schneiderman said his investigation would continue and that his office would engage with the Weinstein Co. and Lantern to ensure "that victims are compensated, employees are protected moving forward, and perpetrators and enablers of abuse are not unjustly enriched."
Other bidders also could emerge during the bankruptcy process, particularly those interested in the company's lucrative 277-film library, which includes award-winning films from big-name directors like Quentin Tarantino and horror releases from its Dimension label. Free of liabilities, the company's assets could increase in value in a bankruptcy.
In more fallout over the scandal, New York's governor directed the state attorney general to review a decision by the Manhattan district attorney's office not to prosecute a 2015 case involving an Italian model who said Weinstein groped her.
The bankruptcy process will bring the company's finances into public view, including the extent of its debt. The buyers who pulled out of the sale earlier this month said they discovered up to $64 million in undisclosed liabilities, including $27 million in residuals and profit participation. Those liabilities came on top of $225 million in debt, which the buyers had said they would be prepared to take on as part of a $500 million acquisition deal.
The Weinstein Co. already had been struggling financially before the scandal erupted in October with a news stories in The New York Times and The New Yorker. Harvey and Bob Weinstein started the company after leaving Miramax, the company they founded in 1979 and which became a powerhouse in '90s indie film with hits like "Pulp Fiction." After finding success with Oscar winners "The Artist" and "The King's Speech," the Weinstein Co.'s output and relevance diminished in recent years. The company let go 50 employees in 2016 and continuously shuffled release dates while short of cash.
Last year, the studio sold distribution rights for the movie "Paddington 2" to Warner Bros. for more than $30 million.