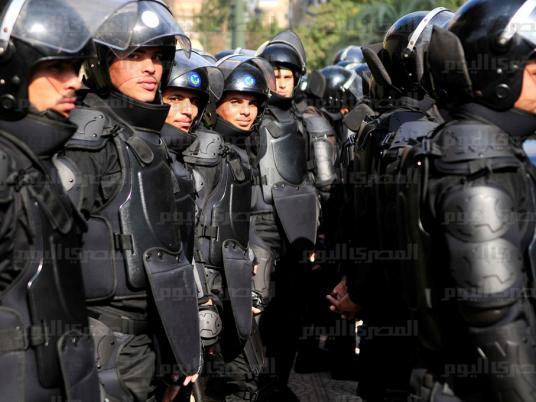 A high-ranking Central Security Forces officer refuted claims that its officers are guarding the Muslim Brotherhood's headquarters in Moqattam in Cairo. Instead, they are stationed nearby to keep the peace should protests tomorrow get out of hand.
In a MENA interview published Thursday, Major General Ashraf Abdallah, the assistant interior minister and Central Security Sector chief, said, "I challenge anyone to prove that there is even one Central Security Forces truck around the Supreme Guidance Bureau. All the forces are there to ensure quick intervention if clashes renew."
He said security forces and police are not politically affliated.
Abdallah also denied allegations that Central Security Forces use birdshot against protesters, saying they are only equipped with tear gas, or that they are targeting protesters.
"The public accused us of running over [and killing] a Daqahlia protester but an autopsy proved he had died after inhaling tear gas because he suffered from a chest condition. They accused us of torturing Mohamed al-Gendy to death and there is a seven-member committee set up to examine the issue. The public also accused us of killing protesters on 28 January during the revolution. We are Egyptians, not killers or disbelievers. History will show the truth.
"Some say Central Security Forces mistreat protesters but protesters mistreat us," he said, adding that demonstrators attack forces using Molotovs cocktails, flares, live ammunition and birdshot.
In response to strike action by some Central Security Forces, he said, "To begin with, I reject the word strike because the Central Security Forces apparatus is highly disciplined but officers and conscripts have some demands due to the unprecedented on-the-job pressures they've been subjected to since the revolution."
He added that Central Security Forces in Mansoura went on strike only to return three days later.
Edited translation from MENA