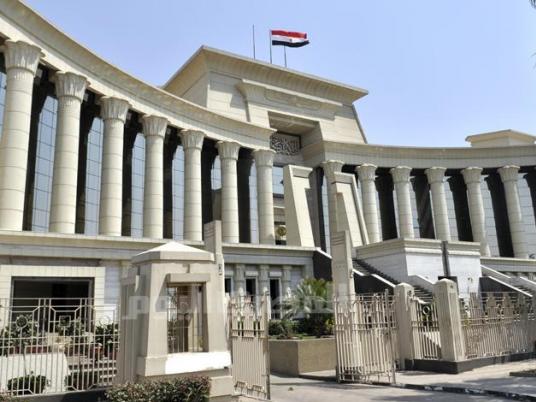 A senior Islamist who helped draft Egypt's new constitution said Sunday he believed judges would supervise an upcoming referendum on the charter, even as a top court called a strike in an escalating standoff with the ruling Islamists.
The charter, adopted Friday after a boycott of the assembly by liberals and Christians, is at the heart of the political crisis between Egypt's Islamist President Mohamed Morsy and his secular-leaning opposition and the judiciary.
The Constitutional Court called a strike after an Islamist protest forced it to postpone a session on the Constituent Assembly's legality, which it had planned to convene Sunday in defiance of a presidential decree stripping courts of the authority to make the ruling.
"I'm sure the judges at the end of the day will supervise the referendum. We have 14,000 judges. No one said 14,000 have this position [of opposing the charter and Morsy]," senior Freedom and Justice Party member Amr Darrag told AFP.
Judges, who normally supervise elections in Egypt, have mulled a boycott of the referendum in two weeks. The Constitutional Court's strike came after a similar move by the Cassation Court.
A judicial boycott of the referendum could further cast doubt on its legitimacy as the opposition prepares to escalate protests against the charter and Morsy's adoption of extensive powers that critics describe as dictatorial.
Opposition activists have also begun calling for a boycott of the referendum.
Darrag, whose party was headed by Morsy before his election, attacked the constitutional court as "highly politicized" and said liberal opponents had been unwilling to compromise on the charter.
The Constitutional Court had already dissolved the Islamist-based Parliament and was "expected" to dissolve the Constituent Assembly and Shura Council, he said.
Morsy also had "solid information" that the court wanted to overturn an August decree in which Morsy clawed back powers from the military, which ruled Egypt between Hosni Mubarak's overthrow in early 2011 and Morsy's election in June.
In another decree on 22 November, Morsy granted himself the power to make decisions above judicial review and barred courts from ruling on the Constituent Assembly and senate.
His new powers will expire once the constitution is in place.
Rights groups say the new charter, which does not explicitly mention women's rights and bolsters the role of Islamic law, undermines basic freedoms.
But Darrag, who helped oversee its drafting over almost six months, insisted that "the amount of freedoms in terms of rights and freedoms for people, for minorities … are unprecedented in this constitution."
Darrag said women were guaranteed equal rights by the charter, adding that the constitution's role was not to change culture.
"[This is] a culture not willing to have a woman as a president," he said, referring to a newspaper poll.