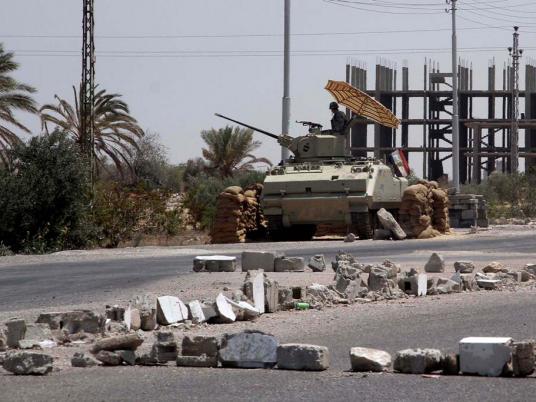 Security sources said a senior police leader was injured Tuesday by anonymous gunmen in an attack on a police car in Arish City, North Sinai. The incident comes few days after three policemen were killed in the same city.
The police and Armed Forces have been engaged since August in a crackdown on militant groups in Sinai following the murder of 16 border guards in Rafah on 5 August.
A security source said Lieutenant General Saeed Salem al-Gammal, 45, inspector general at the North Sinai Security Directorate, was inspecting the check points in Arish when gunmen opened fire on the police car he was in. Gammal was wounded in his neck.
The source added that the recruit who was driving the car escaped during the attack while the gunmen threw Gammal out of the car after he was wounded and seized the vehicle.
The North Sinai Security Directorate raised the state of emergency to the maximum in the directorate, police stations and all Interior Ministry headquarters in Sinai, after the attack, a security source told DPA.
A medical source said that Gammal was transferred to the Arish Hospital in a critical condition.
"Due to Gammal's condition, a private plane was summoned to take him to the Police Hospital in Cairo," the source added.
Interior Minister Ahmed Gamal Eddin dismissed North Sinai security head Major General Ahmed Bakr after three policemen were killed in a similar attack on Saturday.
A security source told Al-Masry Al-Youm Tuesday that a group of gunmen carrying automatic weapons seized a truck loaded with four tons of chemicals that belonged to the Military Production Ministry, in Sheikh Zuwayed, North Sinai. The truck was on its way to the city's seawater desalination station, said the source.
The source added that the chemicals seized were dangerous and could be used in the manufacture of explosives.
Police in North Sinai have protested what they call their lack of sophisticated weapons and the failure of the joint army-police crackdown on militants, known as Operation Eagle.