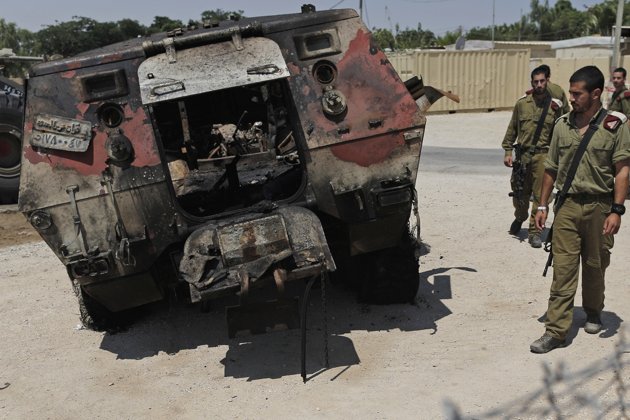 Sunday's attack should open President Mohamed Morsy's eyes, writes well-known Israeli journalist Boaz Bismuth in Israel Hayom, a right-leaning paper. "Egypt's budding love affair with the Gaza Strip does not afford it immunity," he adds.
As Israeli media continues to celebrate their army's successful response to Sunday's attack, which killed 16 Egyptian soldiers, it's impossible to ignore the schadenfreude. Morsy was seen as strengthening ties with Hamas last month in Cairo when he met with its leader, Prime Minister of the Hamas-controlled Gaza Strip Ismail Haniyeh, for talks that were hailed as a turning point in relations between Egypt and Gaza.
During the attack early this week, militants captured the Egyptian soldiers' vehicles and charged them through the Israeli border. One vehicle exploded at the crossing, and another was blown up by the Israeli air force. The Egyptian loss, unprecedented in recent memory, is one which Egypt's presidential spokesperson Yasser Ali went so far as to classify as "Egypt's greatest catastrophe."
Haaretz, a left-leaning daily, notes the fact that Egyptian soldiers were having iftar when they were killed "did not seem to deter the terrorists, presumably members of an extremist Islamic group." The article goes on to imply that real blame for the attack lies with Egypt: "Egypt's poor performance in the Sinai over time led to Sunday's resounding collapse." The authors are Amos Harel and Avi Issacharoff, the former a leading commentator on military and defense issues and the latter Haaretz's commentator on Arab affairs.
Egypt's tragedy contrasts sharply with Israel's success at preventing casualties from its side, as portrayed in Israeli media. "[Sunday's] attack from Israel's perspective ended with great success," the article says, (although an English version of the article tones down the language to "satisfactorily").
"A timely Shin Bet warning allowed the Israeli Defense Forces to effectively reinforce the border near Rafah. All terrorists who tried to enter Israel were killed, with no Israeli casualties."
Channel 2 News Monday night opens with a video of an Egyptian armored vehicle traveling on an Israeli road moments before it is targeted by a missile. The vehicle comes to a gradual halt after being hit in a "strike that prevented a big terror attack," the reporter tells us. Both Channel 2 News, Israel's most widely watched television news network, and Israel's second most watched, Channel 10, show Prime Minister Benjamin Netanyahu donned in black shades and congratulating Israeli officers at the site of the burned-out wreckage, which was carrying half a ton of explosive material.
But alarmist coverage was also a feature of Israeli media this week.
Since the beginning of Egypt's revolution in 2011, Israelis have lamented that Sinai was turning into a state within a state, a hotbed for terror, and a base for extremist groups such as Al-Qaeda and Islamic Jihad. They have argued that Egypt itself has an interest in keeping Sinai from the hands of extremists groups, and preventing attacks on Israel — not only for the sake of the peace treaty and its ravaged economy, but also because it could find extremist groups directing their attacks against Egypt itself.
Not many are optimistic, however, that Egypt's government has the will or means to follow through with a meaningful crackdown on Sinai's extremists.
"The upside is that they don't blame Israel, but the downside is that you'd have to be extremely optimistic to believe that this event will prompt Egypt to do something about Sinai," writes Yoav Limor, a political analyst, in Israel Hayoum. He spoke too early when the op-ed was published in Monday's paper because later that day, the Brotherhood accused the Mossad of launching the attack.
At the time of Morsy's election as Egyptian president last month, some Israeli commentators went so far as to argue that Brotherhood control of the post could bode well for Sinai stability, as the Brotherhood would be better positioned than former President Hosni Mubarak or head of the Supreme Council of the Armed Forces Hussein Tantawi had been to pressure Hamas and keep fellow Islamists in check, even as Islamist extremists appeared to be gaining ever greater control over the peninsula.
Sunday's attack seemed to preclude that possibility, however.
"The attack could be seen as the jihadist groups' declaration of war on Morsy's regime," write Harel and Issacharoff, who note that Golan Heights and Syria could become the launching pad for the next attack.
"This occurrence can be expected to repeat itself in a few months along the Syrian border with the Golan Heights. All the ingredients are already there: A dysfunctional central government, a violent civil war and a steady flow of extremists into the country from throughout the region, all wanting to take part in the new jihad."
"How long will it take for these al-Qaida satellite groups, which are currently fighting [Syrian President Bashar al-Assad's] Alawi regime, to look westward from Syria's Hauran plateau and discover some tempting Israeli targets within reach?"
Limor manages to sum up Israeli fears in darker terms: "This teaches us that a new kind of terror has come to town. Violent, dangerous, and a threat to everything we've ever known, kindly brought to us by the people of the Global Jihad, coming at us from Syria and from Egypt. As of Sunday we can safely say: Iraq is already here."