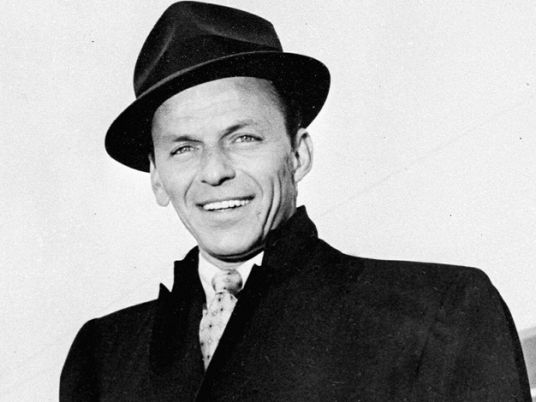 With his perfectionist musical instincts, tough guy swagger and impeccable sartorial sense, Frank Sinatra captivated the 20th century like few other entertainers.
A singer who so defined his craft that he was often called simply "The Voice," the sight of Sinatra would send young fans into a tizzy starting in the 1940s as he became pop culture's original heartthrob.
Even 17 years after his death, the phenomenon then called "Sinatramania" or "Swoonatra" has persevered to a startling extent with the singer still enjoying a hold on the public imagination.
With Saturday marking 100 years since Sinatra's birth in the working-class town of Hoboken, New Jersey, across the Hudson River from New York, at least 10 new books have been published this year on Sinatra, exploring the colorful and often brash lifestyle of the singer who famously sang, "I did it my way."
A new four-CD box-set with a focus on Sinatra's early radio recordings has added to his already voluminous discography.
Centennial tribute concerts have included a Manhattan gala that featured the New York Philharmonic and Sting.
There was a made-for-television concert thrown by the Grammy Awards in Las Vegas, one of Sinatra's adopted bases, that brought out artists as diverse as R&B singer Usher, country superstar Garth Brooks and pop icon Lady Gaga, who offered her take on the "Theme from New York, New York."
But while the sweeping range of performers demonstrated Sinatra's long shadow over contemporary music, to many among the legions of Sinatra aficionados, there is no real replacement.
"The thing is, there is only one of Frank," said Sid Mark, host of the nationally syndicated "Sounds of Sinatra" radio show that has exclusively played his songs for 59 years.
Mark, who frequently welcomes Frank Sinatra Jr on his weekly four-hour broadcast from Philadelphia, said he still saw "sky-high" interest in Sinatra both from listeners of the era and younger people who grew up on his mainstays.
Adding to Sinatra's allure, the 82-year-old host pointed to the vast breadth of Sinatra's material.
With 1,500 selections to choose from, Mark has put on Sinatra marathons that run from Friday evening to Monday morning with no repeats.
Sinatra followed a path set by Bing Crosby, a fellow singer who brought a sense of intimacy to the audience yet seized on the possibilities of new media by acting in Hollywood.
But Sinatra "had something that Crosby didn't have — and that was tremendous sex appeal," Mark said.
"When Frank took the stage, the electricity was everywhere and that transpired into his recordings as well."
Both music and marketing
One of Sinatra's secrets — now second-nature for celebrities — was his close collaboration with publicists who shaped the persona of "Ol' Blue Eyes."
His first publicist George Evans would hold screaming auditions for young girl fans — known in the era as bobby-soxers — to ensure that those who got into the show made a maximum impact.
Evans also crafted the persona of Sinatra as the hardscrabble Italian American lad, an image that later proved complicated as the singer left for California, where he is buried.
Yet unlike some publicist-branded pop sensations of the modern day, few question Sinatra's skills as a musician.
He was known for his meticulous attention to detail and, especially in his early career, his demands on his backup band, even though he had a punctured ear drum since birth and no formal musical training.
Sinatra emerged from the big band era but avidly pursued show-tunes and jazz.
"I think he's one of the greatest jazz musicians who ever lived," said David Finck, a jazz bassist who has also worked with pop stars including Rod Stewart and George Michael, and written about Sinatra.
"He probably would have never said that — 'I'm a jazz guy.' But the fact, the guy could swing harder than many tenor saxophone players I know," he said.
The bassist said Sinatra's genius lay in his understanding of rhythm and his discovery of how to make the most musically of his words, with diction focused on consonants and an intuition for which words to emphasize.
"The natural sound (of his voice) is part of it. But I think the thing that separates him from just about everybody else was that he discovered that you can make things swing when you don't hold the notes out as long."
Hometown honors, 100 years on
Sinatra hobnobbed with the US elite and his political evolution mirrored that of the country.
Born in an ardently Democratic community, Sinatra campaigned for Franklin Roosevelt and John F. Kennedy and spoke out against racial discrimination.
But he became enraged after the Kennedys cold-shouldered him over alleged ties — long a matter of dispute — with the Mafia, and Sinatra by the 1980s grew close to Ronald Reagan.
Sinatra brought Reagan to Hoboken but otherwise mostly ignored his hometown. He stayed away from philanthropy in the city, even though he was known in his day-to-day life as a lavish tipper.
"When the town named Frank Sinatra Drive after Frank in the late 1970s, it was actually controversial," said Robert Foster, director of the Hoboken Historical Museum.
"People thought, whatever did he do for Hoboken?"
The museum nonetheless will dedicate a Hollywood-like star to Sinatra in Hoboken on his birth anniversary Saturday.
Foster said that, on the centennial, most people who came to the museum's exhibit at this point cared little about his personal foibles.
"They just feel the joy in their toes when they hear his music, and that's all they need," Foster said.