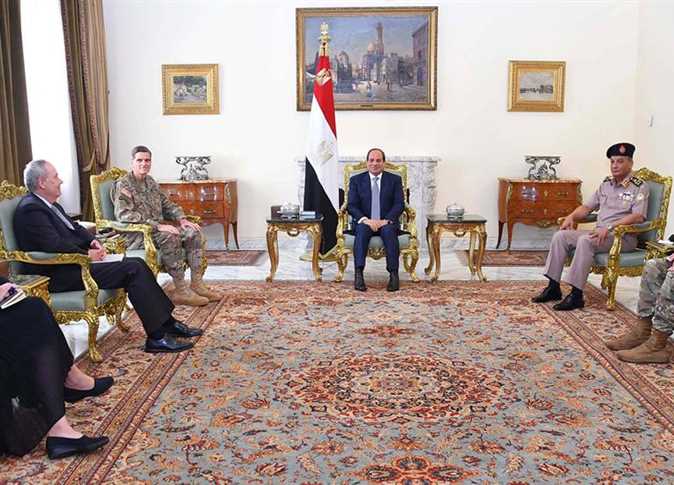 Egyptian President Abdel Fattah al-Sisi on Saturday welcomed Major General Joseph Votel, commander of the US Central Command in the presence of General Mohamed Zaki Commander-in-Chief of the Egyptian Armed Forces, and Thomas Goldberger the Chargé d'Affaires to the US Mission in Egypt.
Spokesman for the Egyptian presidency Bassam Radi said that during the meeting, President Sisi stressed the importance of growing strategic relations between Egypt and the United States, particularly in military cooperation.
Sisi welcomed the launching of the joint military exercise campaign "Bright Star 2018" which will be held from September 8 to 20.
The President also reviewed ongoing developments in counter-terrorism efforts.
Radi added that Votel praised military relations between US and Egypt, stressing his country's keenness to continue developing US-Egypt relations on all fields.
Votel said that "Bright Star 2018" reflects the importance of military relations between the two countries, especially regarding pressing issues in the region which require concerted efforts to fight back against threats both local and global.
He also praised Egypt's efforts in combating terrorism, and it's role in strengthening regional security and stability.
The meeting also discussed means of enhancing US-Egypt military cooperation, as well as the latest developments in the region.
Edited translation from Al-Masry Al-Youm