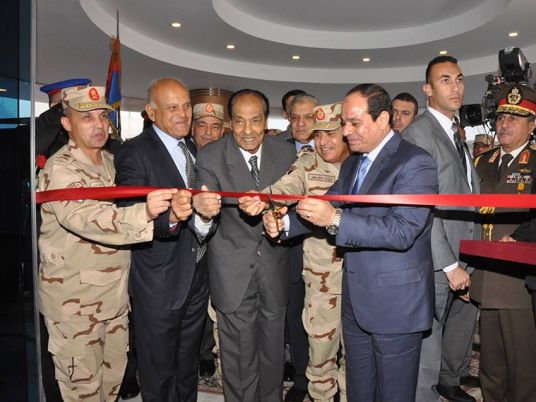 President Abdel Fattah Al-Sisi opened on Thursday a number of upgraded Armed Forces factories for top-notch cars, armored vehicles and spare parts.
Sisi inspected an exhibition of armored vehicles, cars and buses.
Prime Minister Ibrahim Mahlab attended the inauguration along with Defense Minister Sedqi Sobhi and a number of ministers, governors and media people.
During the inauguration, the President listened to a briefing on developments of armed forces factories. He also watched a documentary on development stages of the Mechanized Infantry Divisions.
Within the framework of these developments, two specialized workshops were established and ten high-tech factories for spare parts and heavy equipment were set up.
Head of the Mechanized Infantry Divisions Major General Mohamed Ahmed Morsi said his men are working non-stop to carry out their missions and cope with state-of-the art technology in the field of manufacturing vehicles.
He said the division seeks to upgrade vehicles serving civilians and activating the slogan of "Made in Egypt".
The President, accompanied by a number of students in military academies, inspected an exhibition of cars of taxi project for youth as well as trucks to be given to youth to distribute food.
These projects are meant to help solve the unemployment problem.
Sisi has signed the first purely Egyptian-made car battery as a factory for manufacturing car batteries was opened.
He said Egypt is on the beam to realize development despite challenges, stressing there is nothing impossible as long as the Egyptians are united.