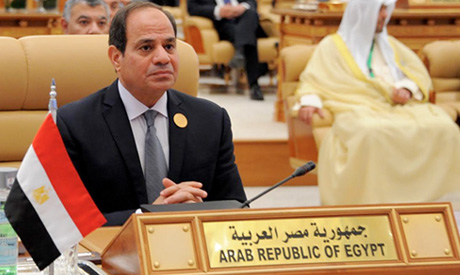 President Abdel Fattah Al-Sisi delivered a speech in al-Hammam City Saturday morning, on the sidelines of the inauguration of Mohamed Naguib military base, dubbed the largest military base in the Middle East and Africa. The base is located west of Alexandria on the Mediterranean Sea.
The speech was nearly 25 minutes long and tackled several issues on Egyptian- Arab national security along with steps that are underway to develop Egypt's economy and living conditions.
Sisi said in his speech that Egypt's enemies are working to destroy Egypt through the spread of rumors and hostility between Egyptians, adding that these tactics would not work.
As for Egypt's battle against terrorism, Sisi explained that war strategy has witnessed a drastic change, as enemies now use sneakier tactics as opposed to direct confrontation.
"Terrorism will not be eliminated unless countries that finance it are held accountable. We will not tolerate countries that finance terrorism with billions of dollars and kill our citizens," said Sisi.
He further stressed that Egypt will stand by its political stance that is based in non-interference of other countries internal affairs, moreover he praised Egyptians' for their patience of the recent measures enacted to aid the goal of economic progress.
These economic measures include the devaluation of the Egyptian pound and the rise of fuel and energy prices. Sisi said he is completely aware of the Egyptians' suffering due to the unprecedented rise in prices, noting that Egypt is currently facing two battles; countering terrorism and achieving economic growth.
The Mohamed Naguib military base is named after the first president of Egypt that followed the July 23 revolution 1952. In honor of the revolution, Sisi inaugurated the base the anniversary weekend of the uprising.
The new base is located by the military city in el-Hammam area, which was established in 1993. New administrative and technical units, along with the deployment of some units in the northern military region, will be stationed at the base to enhance its security responsibilities for the west of Alexandria and North Coast areas.
.