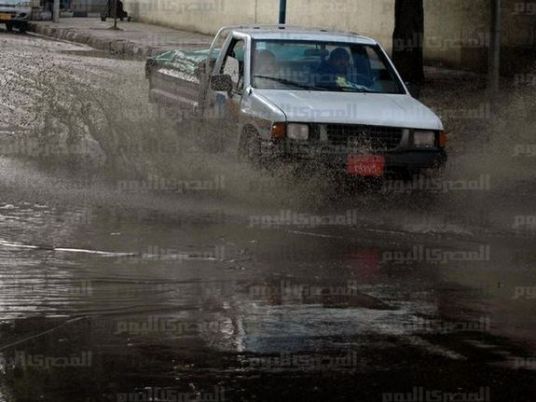 The rainy season starts towards the end of October in the North Coast and in Lower Egypt. During this period of the year, the Meteorological Authority warns citizens on safety and requests that the local authorities clean the spillways and storm drains so as to avoid torrents streaming from the mountains into residential areas.
Despite statements made by the Cairo governor and his deputy assuring people the drains and spillways were cleaned, the three major spillways in the city are in fact stuffed with garbage and dead animals.
The first one is in Helwan. It is the oldest and longest spillway, as it starts in Helwan and ends in Maasara. The second starts in Tora, passes through Degla in Maadi and ends in the Nile. And the third is Kafr El-Elow in the Helwan desert.
Nagah Kamal has a newspaper stand next to the spillway in Maasara. He has been living there for 24 years. He says the gates of the spillway cannot be opened because of the garbage piled up behind them. "We are lucky that we haven't had bad torrential rain in the past 24 years," he said. "We have filed many complaints with the officials to clean the spillway but nobody moved."
The sewage water drainage station lies opposite the spillway. "They dispose of their waste in it, which is later dumped in the Nile," Kamal said.
Floods resulting from torrential rain swept through Greater Cairo in 1982, hitting the villages south of Giza hard, causing 180 houses to be destroyed, animals to be killed and 1,500 citizens to be displaced. Another less serious flood swept through Helwan in 1987.
Still, the Academy of Scientific Research warns that Degla in Maadi, Tora, Wadi Hof and the May 15 City are areas at risk of flooding, noting that the spillways there should be relocated in order divert the water away from inhabited areas.
As to the Tora spillway, the deputy of the Cairo governor said that it has been out of service for a long time, and that the Drinking Water Authority has lain its pipes in it.
Edited translation from Al-Masry Al-Youm