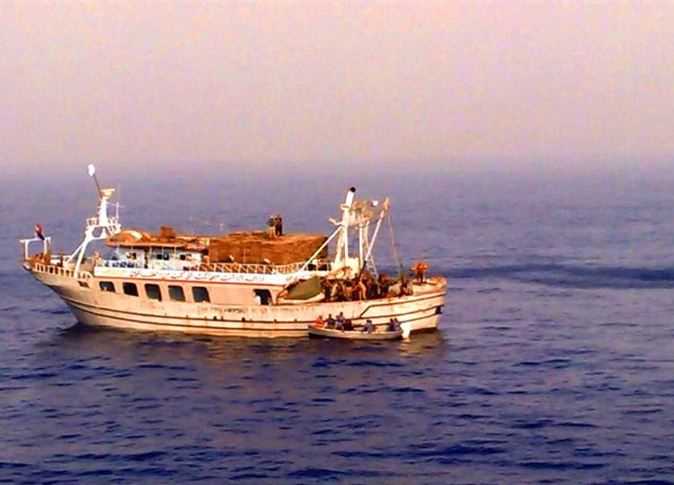 Sudanese authorities have detained an Egyptian fishing boat on January 29 at Marsa Mohamed Qol, to the north of Port Sudan by about 200 km, as a result of illegal fishing in the country's territorial waters, and the passage of the boat through a nature reserve on its way from Sudan to Egypt.
Those detained, 35 fishermen from the governorates of Al-Dakahlia and Kafr El-Sheikh, pleaded with the Egyptian Foreign Ministry to help their families and return to their country safely
Al-Masry Al-Youm visited the families of the detainees to understand details of the fishing trip, which began 50 days ago.
Mervat Ahmed al-Kafrawy, the wife of one of the detained fishermen, said she had been very upset since her husband and son have been held in Sudan. "Our men have been held in Sudan for two weeks. We know nothing on them. No official asked about us. We ask the president to intervene so that they can return safely," she said while crying.
"My nephew is part of the crew of the boat held in Sudan, and his mother is in a state of collapse because of her fear for him after the news of their arrest," said Al-Sayyed Fathi.
He added: "Most fishermen go out to the sea because the fishing in the country is not good enough and they leave their homes only with little money, barely enough during the time of the trip, and all the families of the fishermen do not have money to pay any fines or money to lawyers in Sudan."
"The Sudanese authorities have detained (Mohamed Al-Dash) and his captain (Mohamed Reda Alloush) for more than two weeks, carrying 35 Egyptian fishermen," said Taha al-Sheridi, head of the independent fishermen's union.
Foreign Ministry spokesperson Ahmed Abu Zeid said that the ministry is following through with the Egyptian Consulate General in Port Sudan regarding the detention of the Egyptian fishing vessel.
Abu Zeid explained that the crew of the boat was investigated before the prosecution in Port Sudan, which formed a committee that forced the boat crew to reveal its contents and review its papers.
The committee confirmed that the vessel meets all maritime safety requirements, the required fishing permits, the size and quality of the fish authorized for fishing, and the necessary security approvals, which led the prosecution to drop all the charges against the crew except for passing through the natural reserve.
Abu Zeid pointed out that the General Consulate is following up with the owner of the boat in Egypt, the maritime agent in Sudan and the staff lawyer, the legal procedures for the trial in order to release the boat and return the crew to Egypt.
The Egyptian Consulate General in Port Sudan praised the cooperation of the Sudanese authorities, which have provided all the needs of the fishermen including food, drinks and some medicine since their detention.
Edited translation from Al-Masry Al-Youm