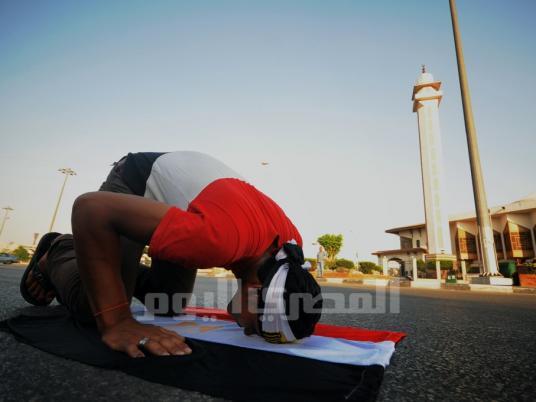 Hundreds of followers of Sufi orders took part in a religious procession to Hussein Mosque in Gammaleya on Sunday to celebrate the first day of the Islamic calendar.
The annual event, which starts from the mosque of Saleh al-Jaafari, in Darrasa area, not far from Al-Azhar, is an important procession in Egypt's Sufi calendar.
Amid tight security, participants chanted Sufi songs and dhikr and raised flags representing various Sufi orders.
Traffic police closed some streets and redirected traffic in order to keep it moving.
Citizens along the route threw roses at participants, cheered them along and recorded the event using their mobile phones.
The procession concluded with a recitation of the Fatehah at Hussein Mosque in the presence of senior Sufi sheikhs.

Sufis celebrate Islamic New Year with a procession to Hussein Mosque in Cairo
Salafi sheikhs, like Mohamed Lotfy Amer in Beheira, issued fatwas prohibiting the procession, saying it is not Islamic to celebrate such events.
However, Sufi sheikhs called on media outlets not to publish the statements of Salafi sheikhs, since they represent a threat to public peace.
Tarek al-Refaey, the head of the Refaeya Order, said the celebrations are not prohibited in Islam as they abide by sunnah.
Edited translation from Al-Masry Al-Youm