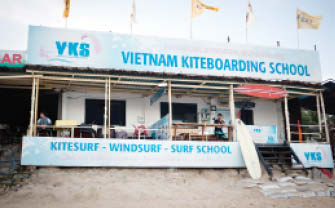 Since the late 1990s, Vietnam hasn't stopped growing as a tourist destination, and has become one of the main economies in the coastal countries of South Asia. So it's no surprise that along with that trend has come a fast-growing sport: kiteboarding.
Situated 220 kilometers from busy Ho Chi Minh City, Mui Ne is a favorite destination, especially with Russian tourists, and features restaurants, bars and cafes.
With its 16-kilometer-long beach, the area is well-known for water sports such as kiteboarding and windsurfing, thanks to strong sea breezes.
Kinh Nguyen Ngoc is from Mui Ne and started surfing 10 years ago. He says he was sitting at the beach one day and saw a foreign man catching waves with a board.
"I was very curious about what he was doing and I kept watching him every day, as he used to surf every day at that time," Kinh said. "One day, he noticed me and asked me if I wanted to learn how to surf. Since then, I've been surfing every day."
Like Kinh, many Vietnamese from the town of Mui Ne started to learn surfing and kiteboarding as foreign managers of the different resorts introduced the idea of catching the waves of Vietnam. Once Kinh started to manage the board, his teacher asked him to become a surfing teacher in one of the resorts.
Kinh was one of the first teachers in Mui Ne. One by one, resorts opened their surfing and kiteboarding schools. Nevertheless, it took some time before tourists really believed that they could surf in Vietnam.
"A couple of years ago, nobody was surfing here, but since then it has become more popular," says Kinh.
Five years ago, Hai Tran, who's also from Mui Ne, decided to open his own kiteboarding and surfing school, fed up with seeing foreign managers take over the beach. Having been a kiteboarding tutor before, he asked other Vietnamese surfers to join his team to become a 100 percent Vietnamese kiteboarding school.
Since then, Vietnam Kiteboarding School has also started to teach surfing. Tourists have the choice to rent a longboard for US$7 an hour or have a private lesson for $80 an hour.
If the waves are not as impressive as the Atlantic and Pacific coasts, they are still big enough to enjoy the feeling of going down a wave and riding under the sun and hot water of the South China Sea.
Usually, tourists walk around the beach and get curious while seeing the Vietnamese instructors riding waves or doing air tricks with the kiteboard. If someone wants to get private surfing lessons, Hai will advise them to come to the school at 7 am, as the waves are better early in the morning.
For Tom Truonghan Pham, who's also an instructor, waking up early has become a habit.
"When it's the high season, between December and March, I used to wake up at 4 am to go surfing. The waves can get very big, and the wind is low so you can have a very nice time in the water," Tom says. "In the afternoon, the wind becomes stronger, and it's then time to take out the kiteboards."
The morning session is the best for the waves but the evening session has its own charms. Being in the water with the colors of the sunset mixing with the palm trees and the sound of the waves creates something magical.
Since it opened, the kiteboarding school has become one of the most popular places to hang out. When there aren't any waves, the instructors chill out to Bob Marley and Jack Johnson songs as background music. They invite their students to stay and have a drink, play cards or organize a football game on the beach while waiting for a better water forecast.
While surfing may be new for tourists in South Vietnam, many Vietnamese who are used to working in the tourism market are now passionate surfers. Some became professional, such as Kinh, who has now his own surfing brand. Since 2010, he has joined the Kiteboard Tour Asia championships in kiteboarding.
"While giving surfing courses, I hope that I can contribute to making surfing a popular sport in Vietnam," Kinh says. "I also want to encourage young people to practice water sports as, for me, it's a real passion, and since I started I feel I have a better life."
Surfing is also a subculture. At night, instructors and students go to the bar next to the school to enjoy a drink together and talk about the day's surf session.
Over the weekend, the surfers organize dance parties and light a bonfire on the beach. If the waves look nice, you can safely bet there will be one surfer who will jump on his or her board to ride in the moonlight.
This piece was originally published in Egypt Independent's weekly print edition.