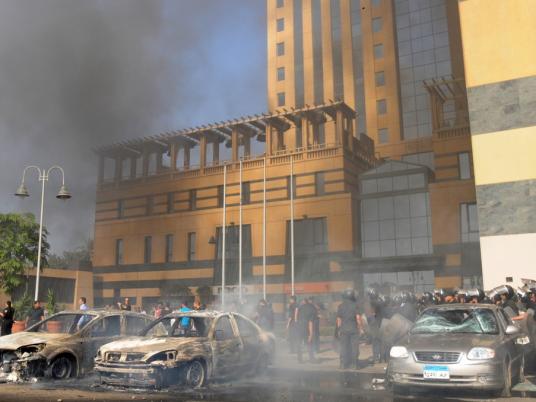 Cairo prosecutors ordered Friday the detention of 17 suspects in the Nile City towers violence for four days pending investigations.
The suspects were accused of thuggery, attempt of forced theft, possession of illegal firearms, destroying public and private property and attacking policemen.
The violence broke out on Thursday when Amr al-Bunni was killed by police officers stationed at Nile City towers, after being refused pay from temporary security work he did at the property, witnesses from the nearby Ramlet Bulaq slum told Egypt Independent. In a previous interview, a Ramlet Bulaq resident had mentioned that Bunni had stopped working for the towers after falling sick, but was denied payment. He previously attempted to address the head of the security department at Nile City, but was reportedly assaulted by guards there.
Ali Dawoud, head of Bulaq Abul Ela prosecution office, investigated all 17 who were detained. The suspects denied all accusations, saying that they were only watching the incidents and the police arrested them randomly.
On Thursday, the Interior Ministry had issued a statement that 18 suspects in the Nile City towers violence had been arrested.
Dawoud also investigated the policeman responsible for the killing, who said that a mob armed with Molotov cocktails tried to break into the hotel.
Investigations will continue Saturday.
The juxtaposition of the Nile City Towers next to the economically marginalized Ramlet-Bulaq neighborhood symbolizes a stark economic divide, and the area has previously seen tension. Residents of the shacks have repeatedly protested attempts of Nile City's owners to acquire their land. On 20 June, the Cairo Governorate issued an order authorizing police to evict nearby residents.