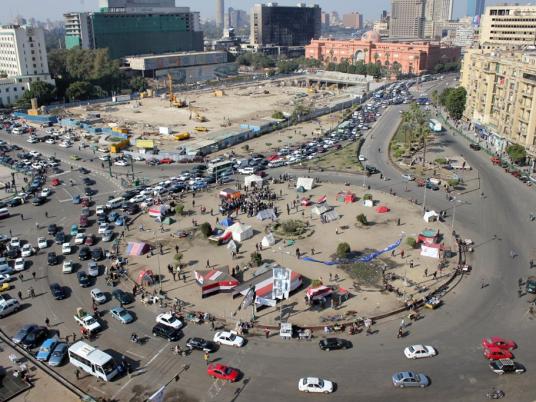 Clashes that erupted in Tahrir Square Tuesday night during a unity celebration ended by Wednesday morning, eyewitnesses said. The fighting left six injured.
They said the violence started when a group of people attacked street vendors in the square. The injured refused to go to the hospital in fear they would be arrested and were treated in the square.
Hundreds of people had gathered in the square for a national unity celebration organized by some revolutionary groups.
Protesters set up a stage in the middle of the square and hung TV screens. Several activists and the Suez-based band Semsemeya took part in the celebration. Participants sang patriotic songs.
"While everyone was celebrating, thugs attacked the square and clashed with each other to ruin the celebration," an eyewitness said.
The witness said the attackers came from Abdel Moneim Riyad Square and headed to the celebration, carrying knives and other weapons.
The event blocked traffic in Tahrir, clogging Qasr al-Nil Bridge, as well as the square's entrances and exits from Abdel Moneim Riyad Square and Tahrir and Talaat Harb streets.
Some participants moved away and the celebration stopped, but eyewitnesses said protesters then intervened to secure the celebration.
After the attackers ran to Talaat Harb Street, participants then resumed the ceremony and traffic flow returned to normal.